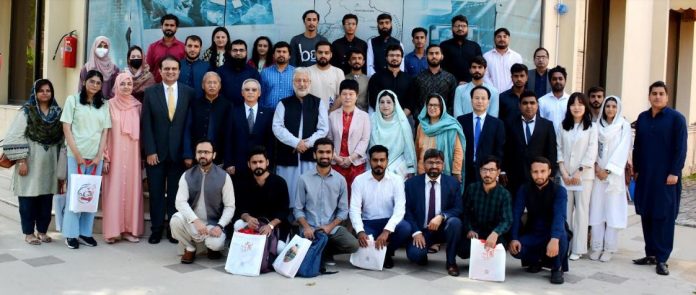 ISLAMABAD, AUG 25 |DNA| – The Higher Education Commission (HEC) held a send-off ceremony for the scholars of the Chinese Government Scholarship Programme here at the HEC Secretariat on Friday.
As many as 50 Pakistani students have secured scholarship for undergraduate, graduate and postgraduate studies in a diverse array of subjects, including Science, Engineering, Agriculture, Medicine, Economics, Legal Studies, Management, Education, History, Literature, Philosophy and Fine Arts. Twenty-six per cent of the scholarship awardees this year are female students.
Chairman HEC Dr. Mukhtar Ahmed, Chinese Charge d'Affaires Ms. Pang Chunxue, Executive Director HEC Dr Shaista Sohail, and Cultural Counsellor Embassy of China in Islamabad Mr. Zhang Heqing and Mrs. Aayesha Ikram, DG (Scholarships) HEC graced the ceremony with their presence alongside the programme alumni and scholarship awardees.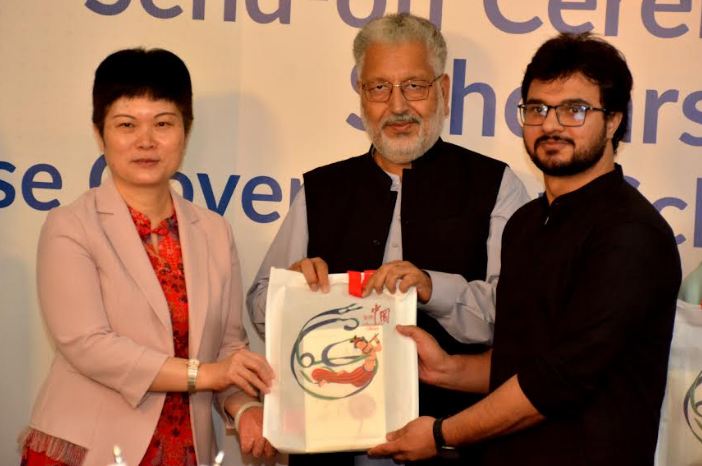 Addressing the ceremony, Dr. Mukhtar Ahmed said, "This is not just an opportunity to study but to also learn how this country in our neighbourhood emerged as a global leader in a matter of only a few decades. This is a wholesome opportunity that will not only lead you to a great career but will also develop you into a commendable human being." He also appreciated the diversity of the batch and shared dos and don'ts of the journey, along with tidbits from his experience of visiting China and studying abroad.
Ms. Pang Chunxue thanked HEC for sending best of the best nominations every year and ensuring that the scholarships are distributed on merit. She said, "These scholarships are an effort of the Chinese government to deepen the relations between two countries and help Pakistan elevate and polish its youth. I hope that these scholars do not only strive to achieve academic excellence during their stay but also experience the real China, through its culture, food and people."
Earlier in her welcome address, Dr. Shaista Sohail shared the background of HEC's Chinese Government Scholarship Programme and said that "HEC has been entrusted with the distribution of the Chinese Government Scholarships since 2019. So far, we have sent 163 students in four years and the number will rise to 243 this year." She also advised the scholars to consider themselves as the ambassador of Pakistan in China and make sure to earn good name for their country.
Mrs. Aayesha Ikram said, "HEC works hard every year to pick the best nominees for Chinese Government Scholarships with a focus on making the process more robust for the next batch. We are glad to see more and more students competing for such bright opportunities and are committed to ensuring that our students get rewarded for their hard work."
Narrating his experience regarding the Scholarship, an alumni of the programme expressed gratitude and said that "I couldn't speak a single word of Chinese when I first went there. Within one year, I became fluent enough that now I am serving as a Chinese instructor here. The takeaway of my journey is that if you respect China's culture, it will respect you back."
Sharing her excitement, a scholar of this year's batch said, "I am thankful to the Chinese Government for this exciting opportunity, and I would also like to appreciate HEC for a rigorous, competitive and meritorious process that makes me proud and humble at the same time to have won this scholarship."
The ceremony concluded with an orientation and Question & Answer session on visa application processing and related issues to facilitate the students to the maximum extent.