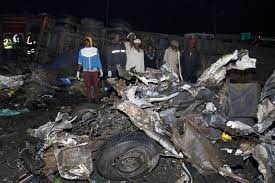 Nairobi,):At least 48 people were killed when a truck apparently lost control and ploughed into other vehicles and pedestrians at a busy junction in western Kenya on Friday night, police said.
"So far we can confirm 48 dead and we are suspecting one or two are still trapped under the truck," local police commander Geoffrey Mayek told AFP after the accident on the highway between the towns of Kericho and Nakuru.
He said another 30 people had been seriously injured and rushed to various hospitals, warning that the toll could rise.
"We are suspecting a truck which was being driven… towards Kericho lost control and rammed into matatus (local minibuses) that were packed at a bus stop, running over those matatus and injuring passengers and pedestrians who were standing by the bus stop," Mayek said.
Collins Kipkoech, a senior doctor at Kericho County Hospital, said his facility had so far received 45 bodies while more victims were taken to other hospitals "and the rescue is still ongoing".
Images posted by local television stations showed the mangled wrecks of several vehicles at an area known as Londiani junction.
Heavy rains are hindering rescue operations, local media reports said.
"The truck was on high speed and it was hooting. It tried to avoid several vehicles before it came straight into the market," said one witness, Maureen Jepkoech.
"I have heard people say it is like it lost the brakes. But I don't know.
– 'Happened in a flash' –
"All I can say is that I am lucky to be alive because I saw what happened and I am alive because I ran, I am just lucky," she added.
"I have seen a very bad scene, bodies and blood all over. So many people are dead."
Another witness, Joel Rotich, said: "The accident happened in a flash, many of them had no time to escape.
"There was a lot of confusion because people were screaming all over and everyone was running after the accident," he added.
"It took some time before people gathered courage and started helping those injured."
The number of people killed on Kenya's roads has increased in recent years, according to government statistics.
"My heart is crushed," Kericho governor Erick Mutai wrote on Facebook, describing it as a "dark moment for the people of Kericho.
"My heart goes out to the families who have just lost their loved ones," he said, adding that ambulances had been mobilised and all health facilities were on standby.