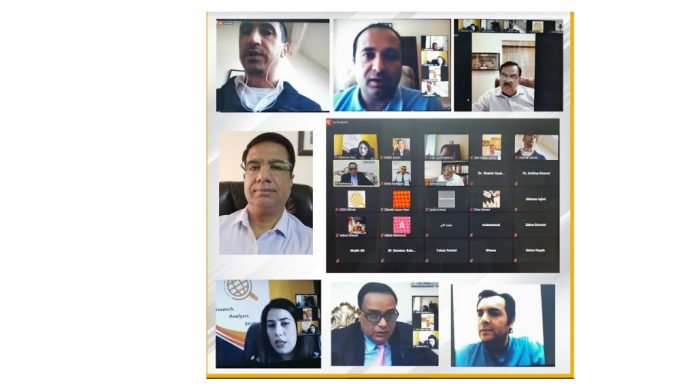 ISLAMABAD (DNA) – Vugar Mammadov – Head of Cooperation, State Committee on Work with Diaspora of the Republic of Azerbaijan has stated that Azerbaijan leaders have aimed at strengthening the relations between the Republic of Azerbaijan and the Azerbaijanis all over the world.
The efforts of Heydar Aliyev are worth mentioning in this regard. He issued the decree about the First Congress of the World Azerbaijanis to implement this great ideology, and proposed the idea of establishing a special state body to organize systematic work with our compatriots abroad and ensure the consolidation of national unity among our peoples. Mr. Mammadov also highlighted the role of Azerbaijan's State Committee of Diaspora and their multiple initiatives to support the Azerbaijan diaspora worldwide.
He expressed these views while speaking during a webinar organized by Center for Global & Strategic Studies (CGSS) on the topic, "Working of Azerbaijan's State Committee of Diaspora and How Azerbaijan Diaspora is contributing in Nation Building", in collaboration with the State Committee on Work with Diaspora, Baku, Republic of Azerbaijan.
The session was moderated by Lieutenant Colonel Khalid Taimur Akram (Retd)- Executive Director CGSS.
Yalchin Elman Mammadov – Independent Consultant and Former Policy Advisor Phrenos European Commission's Contractors Event & Communication, Brussels thanked CGSS for organizing this important webinar on Working of Azerbaijan's State Committee of Diaspora & stated that Azerbaijan diaspora is multi linguistic & multi ethnic and is actively participating in the development of their country.He also said that Strengthening and supporting Azerbaijan's diaspora across the world is the priority of their government. He shared his thoughts on How Azerbaijan Diaspora is contributing in Nation Building during CGSS Online Int'l Conference.
Dr. Mehmood ul Hassan – Member Board of Experts CGSS and Expert on Eurasian affairs – appreciated the efficient role of Azerbaijan state committee on diaspora, which is playing an active role in ensuring the well-being of Azerbaijan. He mentioned that Azerbaijan diaspora act as cultural ambassadors and linking bridges, thereby sowing the seeds of trust, co-existence and cooperation. In the end of his speech, Mr. Mehmood suggested Pakistani and Azerbaijani diaspora to collaborate by exchanging scholars, students and think tanks especially from Kashmir, Nagorno-kharabagh committee.
Ms. Mehreen Gul – Director CGSS–gave a detailed analysis of Pakistani youth Diaspora and Azerbaijani youth diaspora.She stated that Youth diaspora represent an immense richness for host societies since they bridge different countries, cultures and identities, fostering intercultural dialogue, supporting interregional cooperation and promoting social cohesion. The State Committee for Diaspora Affairs is very active for young diaspora representatives abroad. She highlighted that Pakistani youth diaspora is working in approximately 150 countries. The Pakistanis in America have interacted with their homeland in several ways. The most profound of these influences has been in terms of the economic help the community has provided to their original homeland. Also, they are engaged in their host countries organizations to the help the home land
Dr. Ashfaq Ahmed – International Relations Expert and Assistant Professor, University of Sargodha – stated that the State Committee on Work with Diaspora of the Republic of Azerbaijan is efficiently working in energizing the Azerbaijanis across the globe. Their aim is to connect the Azerbaijan diaspora with each other and familiarize them with the rich and diverse history of Azerbaijan.
The Webinar was attended by approximately 30 participants including young students from different Universities of Pakistan who also participated in the Question/Answer session.