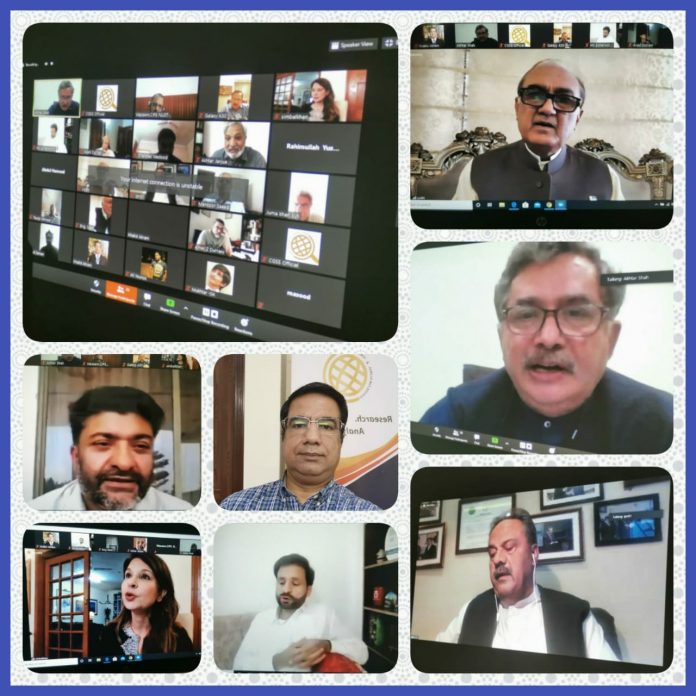 ISLAMABAD, APR 22 (DNA) – Center for Global & Strategic Studies (CGSS)and Area Study Centre (Russia, China & Central Asia), University of Peshawar jointly organized an "Online National Conference" on the topic "Post Doha Agreement Afghanistan: Implications and Options for Pakistan". The Conference was organized to analyze the peace deal between U.S. and Taliban and its implication for Pakistan.
Mr. RahimullahYousafzai – Senior Journalist stated that Doha peace agreement is still holding if not working and it is the biggest opportunity to bring peace if implemented in its true spirit.The issue of releasing the prisonersis the biggest hurdle now which does not seem to resolve easily. Afghan Government stated that it will release 1500prisonersinstead of five thousand which were agreed in Doha agreement. If Afghan Government does not release the prisoners as per the agreement than Taliban will not take part in Intra-Afghan negotiations.There has been an agreement on power sharing and its terms have been already discussed.
Lt. Gen NaeemKhalidLodhi (Retd), Former Federal Defense Minister & Senior Member Advisory Board CGSS stated that many clauses of the Doha agreement have not been shared. U.S. is not leaving Afghanistan willingly and still has interests in the region due to Russia, China, Iran, Pakistan, CPEC and Indian Ocean. However, U.S. will pursue its interests through other means. There are many other fractions involved in Intra-Afghan Dialogue other than Taliban and Afghan Government. Pakistan must keep playing the role of a facilitator in the process as peaceful, stable and friendly Afghanistan is in the maximum interest of Pakistan.
Dr. Syed Akhtar Ali Shah – Former Secretary, Home and Tribal Affairs Department, Khyber Paktunkhwawhile highlighting the capacity of the stakeholdersstated that it is necessary to understand perception of different stakeholders in the peace process. Taliban's aim is to establish an Islamic emirate and have their own interpretation of Sharia. Structural amendments are required in the Constitution of Afghanistan as currently it is centralized. If Intra-Afghan Dialogue does not succeed than Afghanistan may submerge into a civil war. However, it has the potential to end the fight if the signatories are sincere in implementing the terms of the agreement.
Prof HussainShaheedSoharwardi, Director, Institute for Peace & Conflict Studies, University of Peshawar stated that swap of business is not taking place which is most significant. Afghanistan is at civil war and Afghan Army is fighting on numerous fronts including Taliban, IS and other extremist fractions and reduction in its military assistance and training will destroy the fight against terrorism, militarily and Doha peace deal, politically. Afghanistan's strategy has been continuously revised on many occasions due to its intricacies.
DrSimbal Khan, Consultant UNDP, Expert on Afghanistan highlighted the existence ofdivergent forces within the Afghan Government and the negotiating team. She stated that the Ghani Government is using delaying strategies and looking at the results of US elections in November 2020. Ghani faction is not interested in any end or meaningful settlement. They are status quo actors and their power is linked to the continuation of U.S. military and economic support even if it is shrinking. Iran and other regional countries as well as multilateral institutions must be involved. We should look at the 6+2 framework again to bring the region together and to discuss all possible scenarios
Prof. Dr. Shabir Ahmad Khan – Director, Area Study Centre (Russia, China & Central Asia), University of Peshawar stated that whatever happens in Afghanistan is more important for Pakistan than happenings in any other state in historical and geographical perspectives.USA has taken many policy turns on the region during the last two decades or so. USA might be serious in withdrawal because of election year. Division of Afghanistan on ethnic or sectarian basis will have catastrophic consequences for its neighbors. Bringing and sustaining peace in Afghanistan must be a shared responsibility of the regional states. Pakistan and other regional states need to re-construct the regional security paradigm through regional integration.
Dr. Ashfaq Ahmad, IR Department, University of Sargodha stated that peace deal is an opportunity for bringing stability in Pakistan and across the region. The two important aspects include the release of the prisoners and U.S. breaching the peace deal. Certain fractions in Afghanistan believes that this agreement has legitimated and recognized the Taliban.
Ambassador AsifDurrani, Former Ambassador of Pakistan to Iran and Afghanistan stated that Taliban have not yet agreed toceasefire which is most significant and crucial for any agreement. If U.S. follows the timeline of the agreement only then we can talk about prospects and success of the dialogue. Role of the natives including Iran, Pakistan,China and Russia and the attitude of Taliban is also very important.
Major General Syed Khalid Amir JafferyHI(M), (Retd), President CGSS concluded the Conference and stated that developments in Afghanistan are taking place quickly and its future is uncertain. U.S. at this time is not showing too much of interest in Afghanistan and EU has been given the task to be more active on this front.
The Conference was moderated by Lieutenant Colonel Khalid TaimurAkram (Retd), Executive Director CGSS and was attended by 52 participantswhich was followed by an interactive question and answer session.