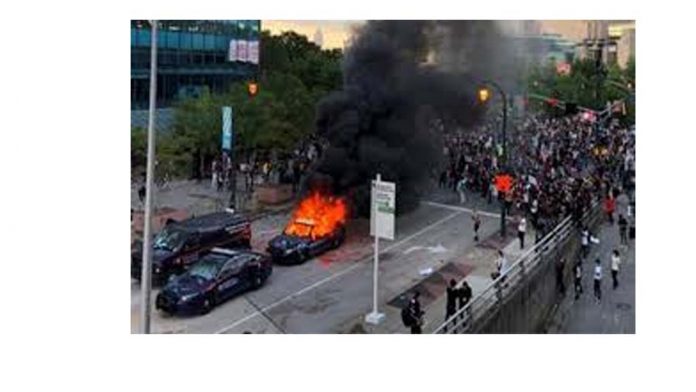 NEW YORK, May 30 (DNA):Protests over police brutality and the killing of an unarmed African-American man at the hands of policemen ignited once again on Friday across the United States, as demonstrators clashed with security forces in Minneapolis, New York, Atlanta and other cities, according to media reports.
In Washington, DC, hundreds of people rallied outside the White House, which was briefly put under lockdown on Friday, demanding justice over the death of George Floyd, the reports said.
A former Minneapolis police officer has been arrested and charged with murder over Floyd's death in custody.
Derek Chauvin, who is white, was shown in footage kneeling on 46-year-old Floyd's neck on Monday. He and three other officers have since been sacked.
Chauvin, 44, is due to appear in court in Minneapolis for the first time on Monday.
Gatherings were largely peaceful as people marched in the streets from Los Angeles to New York, but in Atlanta, demonstrators set a police car ablaze and broke windows at CNN's headquarters.
The Minnesota governor, who set a curfew for the city of Minneapolis, had pledged that Friday would be different from the previous night, when officers abandoned the area around the third police precinct to thousands of angry demonstrators who set fire to the building.
But as the curfew arrived, the protesters were back out in force and not giving ground, as TV channels clover the events live. Thousands gathered around the police station.
Once again the police retreated. Once again the protesters took control. Defying repeated orders, and waves of teargas, they kept pushing forward until the police gave way.
Within half an hour the police station, the symbol of what the protesters saw as their victory the previous evening, was back in their hands. They celebrated with selfies and tours of its wrecked interior.
As the sun went down, the protesters kept pushing the police back. The governor had threatened to send in the national guard, but it was nowhere to be seen. Neither, for now, was there a repeat of the looting and burning of buildings.
Protests have raged all week in the wake of Floyd's death, with protesters calling for an end to police brutality and justice for him and other black Americans, including Breonna Taylor, who was shot and killed in March by police officers in Kentucky, and Ahmaud Arbery, who was killed by a retired law enforcement officer and his son in Georgia while out jogging.