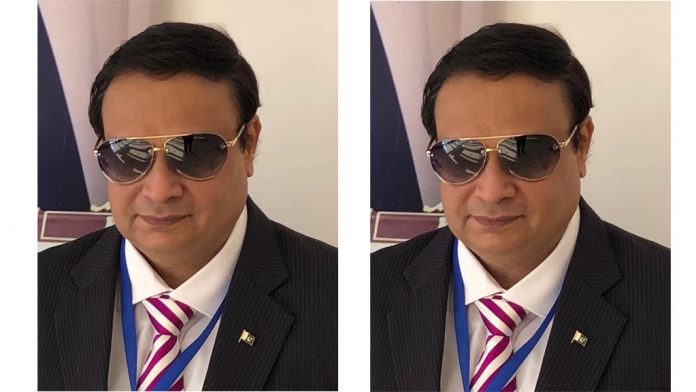 Dr Mehmood Ul Hassan Khan
Despite, Western propaganda as responsible members states of the international community, all the Central Asian and South Caucasus countries especially, Azerbaijan have established close and active contacts with The United Nations (UN), its specialized bodies, organizations and agencies, and, above all, with the World Health Organization, since the outbreak of coronavirus (COVID-19) in their respective countries.
All regional countries mainly Azerbaijan, Kazakhstan, Russia and Uzbekistan have initiated diversified but integrated policy measures to prevent the wide-spread of covid-19. A variety of restrictive measures have been taken in accordance with the prevailing international conditions and standards.
Ideal combination of "containment & mitigation" Policies of Azerbaijan, Kazakhstan, Russia and Uzbekistan have been using and implementing as "balancing act" to delay surges of patients, maintaining easy and smooth supply chains of medical staff, stuff, hospital beds and last but not least safeguarding the most "vulnerable" segment of societies from infectious disease of COVID-19 in their respective social setups.
Western media also tried to maneuver issue of transparency of data, state response and coordinated efforts of all the regional countries as slow and weak. On the contrary, Euro-Asian policy measures and structural reforms were based on their "nation risk assessment" due to which these were "real", "gradual" and "systematic" in their nature and implementation. Strategic "political wisdom" and unity of "command" of Azerbaijan, Kazakhstan, Russia and Uzbekistan paved the way towards sustainable socio-economic policies and their timely implementations during ongoing mega human health crisis of COVID-19.
Azerbaijan, Kazakhstan, Russia and Uzbekistan have announced and implemented various "interconnected holistic policies" to combat density of dangerous and infectious disease of COVID-19 which has drastically changed the cycles of life, processes of human survival and production channels of this planet. These countries followed their own "models" and "modules" to minimize the "collateral damages" of COVID-19 in their societies and economies alike.
Government's spending on public health (AzN 8.3 million) has been increased and created a CV Response Fund, to which it has transferred AzN 20 million manat, with additional contributions from the public and private sectors. They have also announced support to the affected businesses in the amount of AzN 2.5 billion (3 percent of GDP). Azerbaijan's government has provided $5 million to the COVID-19 Fund as part of the WHO's Strategic Preparedness and Response Plan.
The CBA did not change the refinancing rate". State guaranteed public deposits until December 4, 2020. The guarantee covered all manat (foreign currency) deposits within a 10 (2½) percent interest rate cap. The CBA, with the participation of the State Oil Fund, has conducted scheduled and extraordinary foreign exchange auctions, and has satisfied all demands for foreign currency at the announced 1.7 AzN/US$ rate.
Kazakhstan President Tokayev announced a significant anti-crisis package of $13 billion or 9 percent of GDP) in late March. Various supportive measures have been taken including some trade restrictions and regulated prices for socially important goods, cash transfers to vulnerable households, access to medical care by uninsured from April 1 to July 2, and targeted assistance to affected sectors of the national economy mainly construction, agriculture, agriculture and services.
The biggest bail-out package included cash payments to the unemployed i.e. $95 per month per person, a 10 percent increase in pension and social benefits, and additional spending to strengthen the health sector e.g. wage increase, procurement of medical equipment and support employment and business. Subsidized lending will be provided under the state program "Economy of Simple Things", KZT 1 trillion, along with coordinated measures to help small and medium-sized enterprises (SMEs) finance their working capital KZT 600 billion. An additional KZT 1.8 trillion will be allocated to support employment under an "Employment Roadmap" program. SMEs and individual entrepreneurs are also eligible for new tax incentives.
The central government of Russia increased compensation for medical staff as well as for health and safety inspectors up to 3-4 times, individuals under quarantine to receive sick leave benefits, interest rate subsidies for SMEs; all children up to 3 years of age in families eligible for maternity capital to receive an additional lumpsum benefit for 3 months, starting in April, and all families with children to get an additional lumpsum benefit for each child if parents lose jobs, sick leave pay to equal at least the minimum wage until the end of 2020, tax deferrals for most affected companies on most taxes excluding VAT and social contributions, deferrals on social contributions for SMEs in affected sectors for 6 months, social contributions by SMEs on wages in excess of the minimum wage permanently reduced from 30 to 15 percent, zero import duties for pharmaceuticals and medical supplies and equipment and guaranteed loans to SMEs and affected industries.
The government of Uzbekistan allocated substantial funds for its national health system which has now tremendously, improved its country-wide health infrastructure. A special salary supplement for medical employees, increase the number of low-income families receiving social benefits, provide assistance to affected businesses via interest subsidies, finance public works in different regions to improve infrastructure and support employment. The government also announced the temporary reduction of social contributions for individual entrepreneurs, postponing surcharges on tourism, property tax, and land tax, extending the moratorium on tax audits, and delaying tax declarations for 2019 income taxes until August 2020. The government also instructed local governments to reduce taxes by 30 percent and provide a 6-month grace period on paying property tax.
There is an urgent need to pursue and implement Turkic Health Vision 2040.
Implementation of Baku 2020 Declaration in its true letters and spirits.
Overhauling of prevailing national system is the need of the hour including re-organization of patient administration system, appropriate technical infrastructure, date quality and coding improvement, birth and death system, clinical information system, surveillance system and registries, routine health information system, human and organizational development and last but not least data analysis and presentations.
Institutionalization of "e-health" system" should be implemented immediately.
Greater political integration and socio-economic connectivity is the need of the hour to cope and neutralize the bad effects of COVID-19 in Central Asian and South Caucasus countries mainly Azerbaijan, Kazakhstan, Russia and Uzbekistan.
Waiving of trade barriers may provide push-forward missing link for achieving greater regional connectivity among the regional countries.
Solid mechanism of humanitarian assistance among the regional countries. In this regard, Azerbaijan has already dispatched humanitarian assistance to many regional countries. Uzbekistan pledged humanitarian assistance to Afghanistan and Belarus, Russia extended financial assistance as well as medical facilities to many regional countries and international communities. Last but not least, Kazakhstan provided necessary humanitarian assistance to Tajikistan and Kyrgyzstan Republic.
Institutionalization of Free Trade Agreements (FTAs) among all the regional countries.
Formation of a Regional Health Bank which can provide necessary financial loans to any needy regional country in the time of national crisis relating to health pandemic in the days to come.
Creation of Regional Health Fund for health educational university, production, infection preventive and control mechanism in the days to come.
Subject of Health Security should be included at every level of learning in all the regional countries.
Formation of a supra health committee consisting of all the regional countries for a befitting response to all kinds of diseases in the days to come.
Constant sharing of information relating to social indicators including health facilities should be mantra of all the regional countries.
Systemic persuasions to Kazakhstan's initiative Russia-US-China-EU dialogue" may be started as soon as possible. Because it can play crucial role in tackling global pandemics. titled "When we are united -we are invincible".
Coordinated efforts towards optimal utilization of all the regional organizations including SCO, Euro-Asian Economic Union and Turkic Speaking States etc.
Formation of smarter and innovated health systems based on advanced artificial intelligence technologies in all the regional countries.