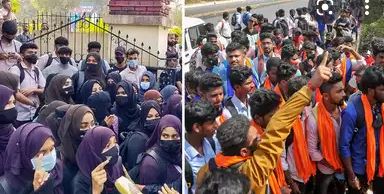 A lone hijab-wearing girl student was heckled by RSS goons; authorities shut schools
News Desk
BENGALURU: Even as the High Court started hearing the matter, the Hijab row turned violent in Karnataka on Tuesday as incidents of stone pelting and lathi-charge were reported in the state at Pre-University Colleges.
According to sources, many students were injured in the stone pelting.
Authorities in southern India ordered schools to shut as protests intensified over a ban on hijab that has outraged Muslim students.
The Karnataka Police resorted to lathi charge as incidents of stone pelting were reported during the students' protest. The police caned the students and protesters to quell the mob from the surrounding areas of the Bapujinagar Government Pre-University College in Shivamogga.
The cowardice of Hindutvavadis exposed in Narendra Modi's India when a lone hijab-wearing girl student was heckled by RSS goons in saffron shawls at a Karnataka college who daringly shouted Allah-o-Akbar.
"Since I started studying (here), I've always worn the burqa and hijab. When I entered class, I removed the burqa… Principal has said nothing, outsiders started this," Muskan, a student who was heckled by a saffron scarf group told NDTV.
As she parked her scooter in the parking, the saffron scarf group shouted at her and tried to surround her, but she remained unafraid and continued walking towards the college building.
It has been a month since the students of a state-run school in Udupi District of Indian state of Karnataka started their campaign after they were barred from entering their classrooms while wearing hijab.
The story cascaded across the internet, and the students began protesting outside the school gate, reading their lessons.
Instead of pacifying the situation, other schools also started enforcing ban on hijab, out of fears of the RSS goons who also simultaneously started shouting pro-Hindutva slogans to worsen the situation.
Police stated that stone pelting started after an argument broke out between the hijab wearing students and another group of students who came in saffron shawls. Three students were injured in the stone pelting. Superintendent of Police Lakshmiprasad and other senior police officers rushed to the spot and are monitoring the situation.
Tension prevailed in the Government Pre-University College of Rabakavibanahatti in Bagalkot where two groups pelted stones at each other. As the situation turned violent, the college management declared a holiday for the college.