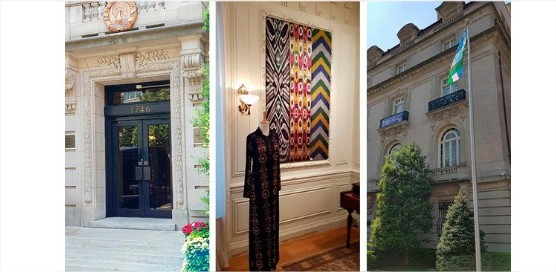 Tashkent, Uzbekistan , MAY 17 – Representatives of the Embassy of Uzbekistan in the USA conducted an online consultation with the vice president of the American non-governmental organization "Mercy Corps" Dina Esposito and employees of regional structures of this NGO.
During the meeting, prospects for the implementation of the five-year program of the US Department of Agriculture "Food for Peace" in the amount of US$21.5 million were discussed in Uzbekistan, Dunyo reported.
In 2019, the US Department of Agriculture included Uzbekistan in the list of priorities for the implementation of the McGovern and Dole program "Food for Education". This program provides access to US agricultural products and healthy baby food programs. The program is named after former senators J. McGovern and B. Dole, who spoke in the US Congress for the adoption of the Farm Safety and Rural Investment Act of 2002, which provided for international assistance in this direction.
Mercy Corps was selected by the US Department of Agriculture as the main implementer of this project in Uzbekistan. A branch of the organization in our country was registered by the Ministry of Justice in March of this year.
According to the Embassy, over the next 5 years, Mercy Corps will contribute to providing balanced nutrition, improving infrastructure and human resources in preschool educational institutions of Karakalpakstan and Surkhandarya region.
According to the organization's plans, a system of baby food enriched with vitamins and minerals will be provided in more than 400 preschool institutions of the country, an infrastructure with the necessary kitchen equipment and trained personnel will be created.
In cooperation with the Ministry of Preschool Education and khokimiyats, repair and construction work will be carried out, water supply and sanitation conditions will be improved, resource-saving technologies and biological water treatment systems will be introduced.
It is also planned to create in preschool institutions "reading corners" equipped with children's furniture, with educational books in Uzbek and foreign languages. In rural areas, specialized libraries will be created for children aged 3 to 6 years.
Education and training of administrators, teachers and medical personnel of preschool institutions will become a separate area of activity of Mercy Corps.
According to the Embassy of Uzbekistan in Washington, the organization intends to begin recruiting personnel and conducting a preliminary assessment of the needs of the preschool education system of Uzbekistan as the situation with the coronavirus pandemic improves.