UK Prime Minister Boris Johnson is set to call for Nato unity amid growing tensions within the military bloc.
A summit to mark the founding of the 29-member defence alliance 70 years ago gets underway near London on Tuesday.
The gathering is overshadowed by a bitter row between France and Turkey, and a continuing debate over money.
Last month, French President Emmanuel Macron described Nato as "brain dead", saying alliance members were no longer co-operating on a range of key issues.
US President Donald Trump, who has repeatedly clashed with Nato's European members over the funding of the bloc, is among world leaders attending.
He arrived in the UK on Monday ahead of a reception to be hosted by the Queen at Buckingham Palace on Tuesday evening. Mr Trump is set to hold separate talks with the German and French leaders, and Nato's secretary-general.
Nato members pledge to come to the aid of one another should any of the allies come under attack.
What will Boris Johnson say?
As host of the two-day summit, Mr Johnson is expected to reiterate the importance of Nato staying united.
"The PM's position is that Nato is the most enduring and successful alliance in military history and that it continues to adapt to the evolving threats that we face," the prime minister's spokesman said.
"It is the cornerstone of Euro-Atlantic security and it helps to keep a billion people safe.
"The PM will emphasise that all members must be united behind shared priorities so Nato can adapt to the challenges ahead," the spokesman added.
Tensions have grown since the election of President Trump, who has repeatedly complained that Europe's Nato members are not contributing enough to the alliance.
Ahead of his visit, he tweeted to take credit for a recent commitment by Nato Secretary-General Jens Stoltenberg to increase spending levels.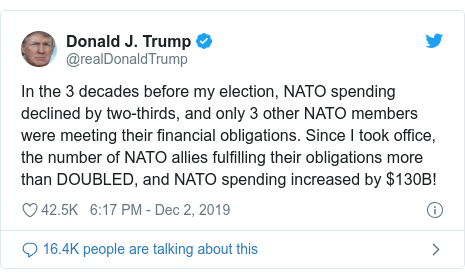 Nato estimates for 2019 show there are now eight countries – in addition to the US – meeting the target agreed by all Nato members to spend 2% or more of their gross domestic product (GDP, a measure of economic output) on defence.
Mr Stoltenberg said on Friday that by 2020, European allies and Canada would have invested $130bn more since 2016 – the year Present Trump was elected.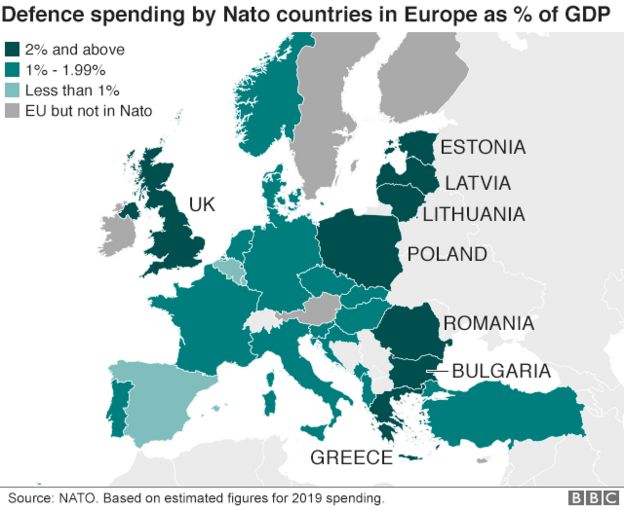 What are the other issues?
Last month, Mr Macron described Nato as "brain dead" – stressing what he saw as a waning commitment to the transatlantic alliance by its main guarantor – Washington.
He cited the US failure to consult the alliance before pulling forces out of northern Syria in October, which cleared the way for Turkey – another Nato member – to push into Kurdish-controlled areas to create a "security zone" along its border.
Last Friday, Turkish President Recep Tayyip Erdogan hit back, suggesting that Mr Macron was in fact the one who was "brain dead". He accused him of "a sick and shallow understanding" of terrorism.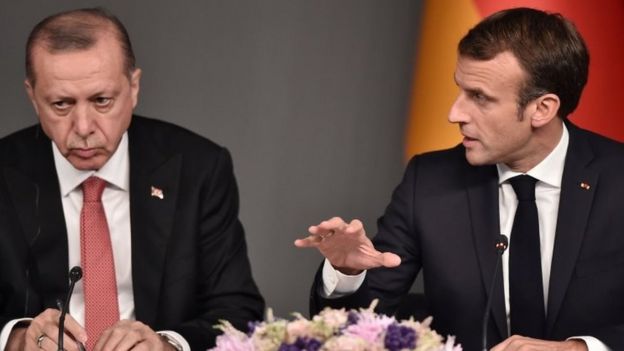 President Macron also angered Turkey by in November hosting an official from the Kurdish-led Syrian Democratic Forces (SDF). Turkey views a section of the group – the YPG – as terrorists.
Both leaders will be attending the Nato event and will be hosted, alongside German Chancellor Angela Merkel, by Mr Johnson at Downing Street on Tuesday.

What is Nato?
The North Atlantic Treaty Organisation is the world's most powerful regional defence alliance
It was set up in 1949, after World War Two, amid anxiety at Soviet expansion
It was founded on the principle of collective defence between allies
Originally had 12 founding members, but now has 29


Alliance at a junction
Turkish and US unilateralism; rows over money; a resurgent but ill-defined Russian threat – there's plenty for Nato leaders to talk about when they meet in a luxury resort hotel near Watford, a town best known by many for its nondescript railway junction.
Nato too is at a kind of a junction itself. It has many of the problems of success. Many of the decisions it has taken – its expansion to bring in so many new members for example – were driven as much by politics as by strategy.
But the world has changed dramatically since Nato's founding. It is very different again from the world of the 1990s, in which Nato basked in its victory in the Cold War.
President Macron's label of "brain dead" may be going a bit far. But he has a point.
Nato leaders need to get back to strategy, to the big thoughts about where the alliance should be heading.
How will it contend with the Russian threat? Does it need to rethink its strategy? Should Nato have a common approach to a rising China? What should be Nato's priorities in the 21st-Century world?