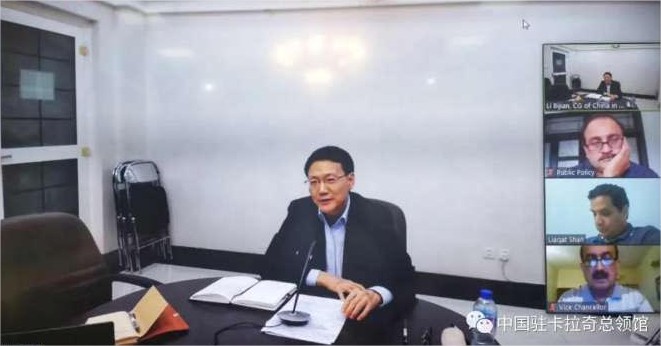 ISLAMABAD, May 18 (DNA): While attending the Webinar on "CPEC Phase ll: China-Pakistan Industrial Cooperation" , the Chinese Consul General in Karachi Li Bijian stressed the importance of favorable investment policies and well-developed infrastructure and facilities for Pakistan to attract foreign investments and cushion the adverse impact of the COVID-19 pandemic.
Organized by the Institute of Peace and Diplomatic Studies, Centre for BRI and China Studies in collaboration with Riphah International University, the Webinar provided a platform for government officials, businessmen and scholars to exchange their views on the current status of China-Pakistan industrial cooperation and the prospect; the difficulties and challenges ahead; policies and implementation.
Director General (China), the Foreign Ministry of Pakistan Mudassir Tipu; Former Pakistani Ambassador to China Masood Khalid; Prof. Mi Hong from Zhejiang University, Project Director of CPEC Liaqat Ali Shah, and over 70 celebrities from both Pakistan and China attended the Webinar.
According to Gwadar Pro, Li reiterated that as the first phase of CPEC has laid a solid foundation for the economic development of Pakistan, the second phase endeavors to boost development in agriculture, industrial cooperation, and people's livelihood.
However, the rampant COVID-19 pandemic has in some degree hindered the implementation of CPEC projects because of raw materials shortage caused by interruption to supply chains, inadequate labor force, and the subsequent delay of the project schedule.
In this condition, Li suggested the government of Pakistan should take a far-sighted view and adopt top-down measures to meet the current challenges.
That will include adjusting the investment strategies, in which the government stages a platform for enterprises, especially the private ones to give full play to their capabilities. In addition, the government is obliged to strengthen social security and provide needed infrastructure and facilities in the important industrial cooperation zones including SEZs and Gwadar Port Free Zone.
To create a better investment environment, the government should promulgate favorable policies that can remain consistent in a long period.
Consul General Li pointed out that the internationalization of RMB will provide the Pakistani government with more macroeconomic policy options. Compared with the quantitative easing (QE) policies generally adopted by the western world in response to crises in recent years, liberalizing RMB direct investment can avert hyperinflation, sharp currency depreciation, and asset bubbles.
It will also avoid the risks of insufficient foreign exchange reserves and attract investments from China that can help promote the economic development of Pakistan.=DNA
==============