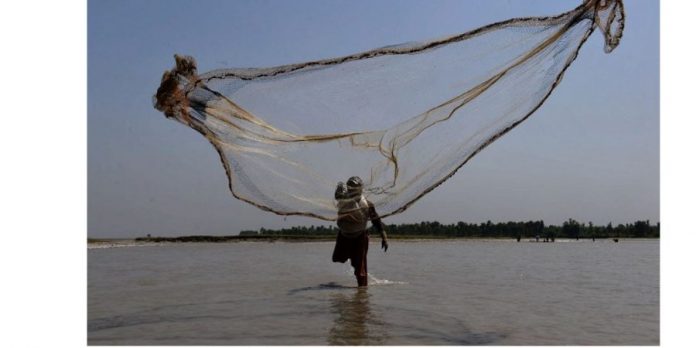 ISLAMABAD, APR 20 (DNA) – Pakistan is all set to harness potential in deep sea fishing by providing access to cost effective and state of the art equipment to Pakistani fishermen.
Highlighting Pakistan's achievement to this effect, Gwadar Pro App in a report stated that Sindh, Balochistan's fishermen will benefit, particularly from the technical advances in Vessel Monitoring Systems (VMS)..
Gwadar, a port city on the southwestern coast of Balochistan province where the Arabian Sea meets the Persian Gulf, is definitely facing a huge chance to develop fishery.
Fisheries Development Commissioner Dr. Safia Mushtaq on Saturday gave a detailed presentation to Federal Minister for Maritime Affairs Syed Ali Haider Zaidi on an integral element of Monitoring, Control and Surveillance (MCS) programs at the national and international level.
During the course of history, despite having a huge potential in deep sea fishing and with export markets having demand for the catch abundant in warm waters of the Arabian Sea, the sector had been neglected till the incumbent government prioritized to revamp it, so that incorporation and adoption of the prevailing international best practices is ensured, said a report of Press Information Department.
As per the official sources, currently no tracking system is in place to monitor the activities of fishing vessels, hence Illegal, Unregulated and Unreported (IUU) fishing was rampant and there were no check and balance to combat the smuggling activities in the Seas of Pakistan. The main bottleneck in the installation of VMS was its cost which was unbearable for the fishermen.
Ministry of Maritime Affairs is all set to resolve the issues related to the cost, implementation and installation of Vessel Monitoring System (VMS) while working with a technical team. They said technology has been tested successfully on the fishing boats in the sea.
Ministry of Maritime Affairs is also ready to introduce the most up-to-date and cost effective VMS technology very soon which is graded as the most user friendly, cost effective and economically beneficial for the fishermen.
Once installed, those fishermen who are currently operating from coastal areas of the province of Sindh and Balochistan will benefit the most. VMS will help in monitoring and regulating the fishing activities which will result in an increase in the revenues of both the individual fishermen and the industry as a whole.
As the first step in the modernization of industry, the said technology will open new avenues of development and sustainability in the fishing industry of Pakistan, the report added.=DNA
==============