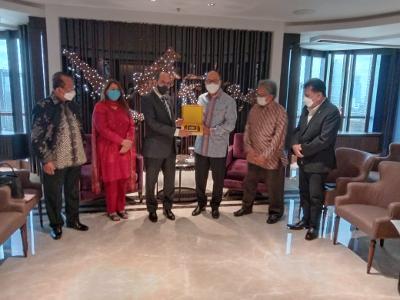 Ambassador of Pakistan to Indonesia, Muhammad Hassan called on the Minister of Trade of Indonesia, Mr. Muhammad Lutfi today. The Ambassador apprised the Minister on the current level of cooperation between the two countries in the field of trade and investment, especially after the operationalization of Indonesia-Pakistan Preferential Trade Agreement in 2013.
He thanked Indonesia for unilaterally providing concessions on additional tariff lines to Pakistan in 2018. The Ambassador expressed Pakistan's keen desire to further expand our trade. Expressing concern that the balance of trade is heavily tilted in favor of Indonesia, the Ambassador proposed that in order to create a win-win situation for both countries, Indonesia may consider importing more goods from Pakistan, particularly those lines for which there were high demand in the country.
Minister Lutfi stated that Pakistan was an important trading partner with bilateral trade touching to the level of US$ 2.6 billion. Indonesia was keen to expand cooperation in all fields including trade and investment. Indonesia was also willing to import more from Pakistan. Keeping in mind the availability of huge consumer market in Pakistan, Indonesia was considering to invest in lucrative sectors in Pakistan including the huge food and beverages sector.
He also expressed his interest to visit Pakistan and meet his Pakistani counterpart. Indonesia is the largest trading partner of Pakistan in the Southeast Asian region. Bilateral trade between the two sides have crossed US$2.6 billion during 2020. Among major exports from Pakistan to Indonesia, cotton, kinnow, seafood, articles of apparel accessories and sports goods are showing upward trend after operationalization of Preferential Trade Agreement (PTA). 
Pakistan's main import from Indonesia include Palm oil, coal, petroleum, paper products and rubber. The two countries are determined to further expand our cooperation in all fields.