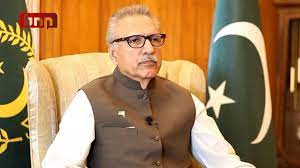 Staff Report
ISLAMABAD: President of Pakistan Dr. Arif Alvi has said he was alarmed, shocked & deeply disturbed over the current situation in the country arising out of the arrest & manhandling of the former PM Imran Khan. The loss of human lives as an aftermath is heart-wrenching, regrettable, unfortunate & highly condemnable.
Protest is a constitutional right of every citizen of Pakistan but should always remain within the bounds of the law. The way some miscreants have damaged public property, particularly government and military buildings, is condemnable.
\We must have a re-Think & look for political solutions, rather than coercion & arrests. I have conveyed my concerns to the political & military leadership & am hopeful that the situation can improve. I strongly appeal to all citizens of the country to remain peaceful', he added.