Cervical cancer is the fourth most common cancer among women worldwide. But in Africa it is far deadlier than elsewhere, despite being a preventable disease. An ambitious health campaign in Rwanda has set an example which other countries on the continent are now starting to follow.
Angeline Usanase, who lives in Rwanda's capital, Kigali, remembers the day her seemingly healthy life took a drastic turn.
It was in November 2017 when she saw blood on her panties. This was no ordinary blood. At 67, Ms Usanase was menopausal and wouldn't expect even light bleeding.
"I went to a nearby health centre where the doctors recommended that I take the cervical cancer test.
"The results came back positive. I was so confused. I could not take it – I thought I was going to die," she says.
A model for success
Ms Usanase insists that the early detection and timely hospital treatment she received saved her life.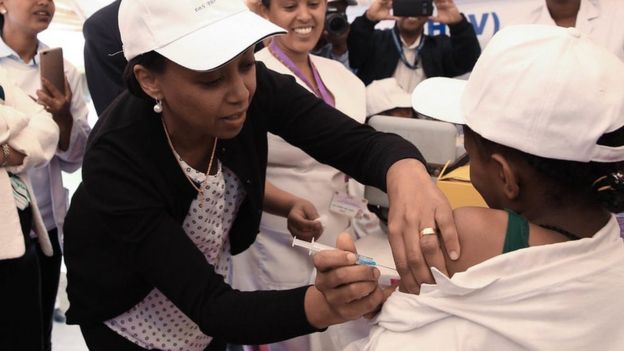 But in Rwanda today, she may not have contracted the disease at all, thanks to the launch of a nationwide vaccination and cervical cancer screening campaign.
Cervical cancer is the second most common cancer among women in Africa, but it is the deadliest, according to the World Health Organization.
The Human Papilloma Virus (HPV), which is a sexually transmitted infection (STI), is behind almost all cervical cancer cases.
Despite the high number of deaths and the existence of an effective vaccine, only 10 African countries have HPV vaccination as part of their routine immunisation programmes.