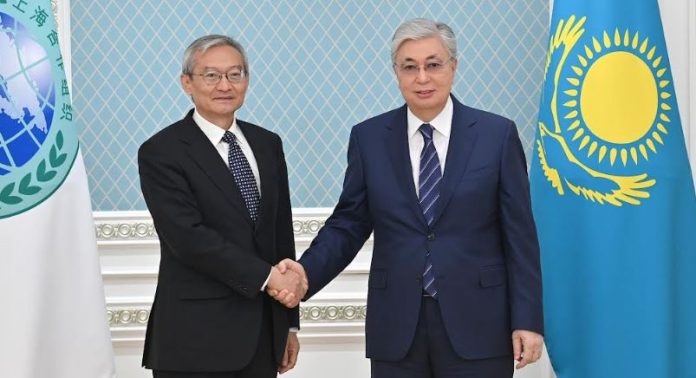 News Desk
NUR-SULTAN: President of Kazakhstan Kassym-JomartTokayev received Secretary-General of the Shanghai Cooperation Organization Zhang Ming, who arrived in Kazakhstan on his first official visit, the Akorda press service reports. Kassym-JomartTokayev and Zhang Ming discussed Kazakhstan's cooperation with the SCO in such priority areas as ensuring regional security, and developing trade, economic, cultural and humanitarian ties.
They also touched upon key aspects of the Organization's activities in the current geopolitical situation. Welcoming Zhang Ming, Kassym-JomartTokayev noted that the SCO Secretary-General took office amid a challenging geopolitical situation, and in these conditions, the Organization should play a special role. «Kazakhstan is an active participant in our Organization.
Speaking at the SCO summit in Bishkek, I stated that this Organization is the most successful among the international organizations existing in the international arena,» the Head of our State said. President Tokayev also focused on the uniqueness of the SCO agenda, which touches on a wide range of issues. «It is noteworthy that the Shanghai Cooperation Organization is not confrontational in its essence, it is set up to be constructive, to develop cooperation between the participating states. The SCO is also aimed at making a great contribution to the improvement of the international situation.
Therefore, Kazakhstan will continue to actively engage in the SCO's work, and make its feasible contribution to strengthening its potential,» the leader of Kazakhstan stressed. The President thanked the SCO Secretary-General for forming an observer mission for the upcoming national referendum in Kazakhstan. In turn, Zhang Ming expressed gratitude to Kassym-JomartTokayev for his trust and support in making a decision together with other SCO leaders on his appointment to the post of Secretary-General. He assured the President that he would make every effort to further strengthening the Organization's potential and cooperation with the Member States. The diplomat highly valued Kazakhstan's success in socio-economic development and the large-scale reforms carried out under President Tokayev's leadership. Zhang Ming stressed Kazakhstan's significant contribution and active participation in the development of the Organization's potential. During the conversation, the SCO Secretary-General also informed the President about preparations for the next SCO Summit, which is scheduled to be held in September in Samarkand. The two also exchanged views on the international agenda.