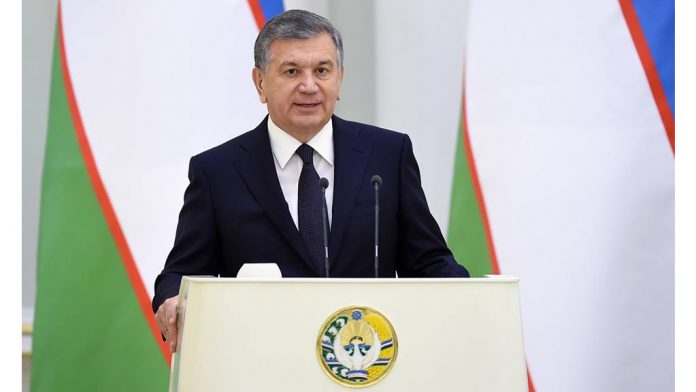 TASHKENT, APR 5 (DNA) – President of the Republic of Uzbekistan Shavkat Mirziyoyev chaired a video conference on business support in the context of countering the crisis caused by coronavirus pandemic.
Before discussing the agenda, the Head of the state again addressed people.
– Today the whole world and humanity are going through difficult times. All measures are being taken in Uzbekistan to stabilize the epidemiological situation and fully protect the health of the population.
The number of detected cases of coronavirus infection has reached 221. Unfortunately, despite the provided medical assistance, two patients died. On my own behalf and on behalf of all our people, I express my deep condolences to their families and relatives, wish them patience and strength.
100 thousand people have been quarantined. At the same time, almost 13 thousand of our citizens have been returned to the country, who are also under quarantine. A quarantine zone is being created in Tashkent region that can accommodate 10 thousand people. More than 2.2 thousand citizens who returned from abroad have already been placed here.
2 virology hospitals with 10 thousand beds are being built in Zangiata district. In the coming days, buildings for 2 thousand beds will be put into operation.
To date, 245,000 tests and about 700,000 protective equipment have been imported and delivered to medical institutions. The activity continues.
Diagnosis and treatment, quarantine measures are carried out based on the recommendations of the World Health Organization and best foreign experience. Qualified doctors from South Korea have arrived and are involved in treatment of patients. A group of Chinese specialists is expected to arrive.
In addition, our doctors are conducting constant video communication with foreign colleagues and exchanging experience.
It should be noted that systemic measures are yielding results. 25 patients were fully recovered and transferred to rehabilitation.
Taking this opportunity, once again I express my deep gratitude to our selfless and noble doctors who have shown courage and perseverance in the forefront of this struggle.
I am grateful to our people and my dear compatriots who understand the situation correctly and actively support us.
At the same time, we have to state with great regret that, despite all warnings and explanations, quarantine rules in some places continue to be violated.
To date, more than 22 thousand such cases have been identified, 330 people have escaped from quarantine zone. Nothing can justify the fact that during the quarantine period, some irresponsible individuals held 24 various ceremonies with mass participation of people. Strict measures will be taken against this recklessness that endanger the lives of all our people.
I also signed a resolution on the financial support for cotton-textile clusters that are just getting back on their feet, which today create many new jobs in rural areas. According to the resolution, the term of repayment of loans that they received in 2019 for cotton harvesting is extended until October 1.
Our people, no matter what severe cataclysms they have experienced in their history, with the help of Allah, their strength, restraint and wisdom, have always overcome them.
I have full confidence in the insight, strong will and determination of our brave, resilient and caring people.
No person or family in Uzbekistan will be left without attention and care of the state and society! May Almighty protect all of us and save our people and all mankind from this scourge!