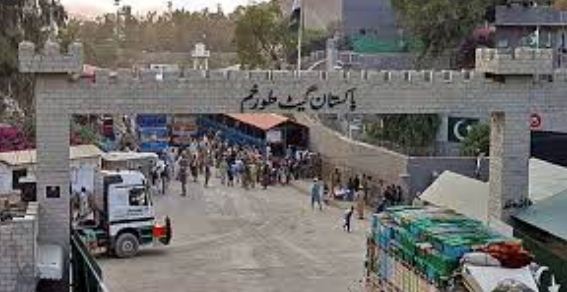 Dr. Abdus Sattar Abbasi
We were scheduled to fly from Peshawar to Kabul in December 2006 when airport authorities announced that flight has been cancelled due to bad weather in Kabul. It was quite disturbing because we had to catch a flight next morning from Kabul to Dushanbe where I was based those days and it was not a connecting flight. I called one of my colleagues, Mr.Shahnoor Rahim, in Peshawar who was based in Kabul. He came to the airport to facilitate and suggested to travel by road. I had a discussion with Amna, my wife, and we instantly agreed due to the expected adventure and curiosity linked with proposed trip, which sufficiently fulfilled during the journey.
We crossed the border after immigration formalities but there was not enough checks and balances on the other side of the boarder. We had to ask about immigration desk to get our passports stamped for the entry. We entered the room, showed our passports with visa and the official marked 'entry' on our passport. The next step was to get the taxi; we were surrounded by number of taxi drivers but I asked them that I will travel with a person who can speak Urdu. A young man stepped forwardand started talking to me in Urdu. After bargain on fare, we were on the road to Kabul. The driver told me that he studied high school in Peshawar; his parents were still living there however he was in Afghanistan due to good earning opportunities. We both felt relieved after a few minutes' drive because of all familiar environments around us, same kind of dress, same manners, same body language as we observe whenever we are in Peshawar.
After half an hour I received a call from our host in Kabul, he talked to the driver through my cell phone and told me that driver seems reliable; he will bring you to our contact point in Kabul. We stopped for Maghribafter Jalalabad and got opportunity to interact with local residents, they were quite happy to facilitate, offered to stay and have food with them, which we politely refused due to a long journey ahead. We had smooth drive to Kabul except a little delay due to traffic jam near the capital city. We checked in the hotel and had to decline, due to the tiredness, a warm invitation by our host for the dinner. Next morning he came to drop us to the airport. We were subject to utter surprise when we approached the immigration counter, a young official came and said you don't have valid visa to enter in Afghanistan. I showed him 'entry' stamp on our passports from Torkham. He said it was the mistake of Torkhamimmigration;visa suggests'raft obergasht' which concluded when you came last time from Tajikistan and left for Islamabad, we can't allow you to board the plane. I tried to convince him that Afghanistan Embassy in Dushanbe categorically told me that I can travel to and back from Pakistan through Kabul on this visa, but all in vain. Finally, I called my host, after talking to the relevant official he told me to leave the airport. We came back and applied for renewal of the visa, which we got within two working days.
Now, instead of waiting another four days for next flight we decided to travel by road from Kabul to Qunduz, a border city of Afghanistan withTajikistan. Next day we started our journey quite early to ensure that we reach Qunduz during office hours to cross the border. This time Yaseen was our companion as a driver provided by our host in Kabul Mr.Nabi Muhammad, who belonged to Hazara tribe with good command on Urdu and lots of loveforPakistan.We will remember his facilitation for whole of our life during those tough circumstances.
Yaseen was quite groomed; he was fluent in Urdu with reasonable command on English. His life story also suggested deep connections with Pakistan. He lived for years in central Punjab and had very good poultry business before repatriation to Afghanistan. Still some of his family members were in Pakistan. He also appreciated educational institutions of Pakistan and gave credit of his language expertise to his school which he attended in Pakistan.
Yaseen suddenly applied the break and said, oh now we can't reach Qunduz during office hours. On my enquiry he said,"We are not allowed to overtake any armoured vehicles". After a few moments he said, "No, we can overtake this armoured vehicle". I replied, are you insane? How do you know that you can overtake this vehicle? He said, "Look, there is a German flag. Germans don't prohibit overtaking. However, it is completely prohibited to overtake US armoured vehicles". I resisted overtaking the vehicle with an argument that who knows today German's don't appreciate overtaking and open fire on us. He replied, I am also sitting with you, be patient, I can't risk my own life for nothing. Then I allowed him to overtake, but I remained breathless during those moments.
Finally we reached Qunduz and found that immigration office is closed due to official holiday in Tajikistan. We had no other option except staying in Qundus. Yaseen helped us to find a guest house being operated by a German citizen. It was a good experience, nice interaction with the owner, good food and a peaceful night.
Next day, when we approached immigration officer on our turn, he objected on our entry from Torkum. Despite my explanation that we have already rectified the problem and now we have valid visa from Ministry of Interior Afghanistan, he did not agree to stamp our passport for exit. He said, "Now you need to go to Takhar for clearance. We will allow you only when our authorities in Takhar will issue a letter of clearance for you". I agreed, got address of relevant authorities and turned back. A young gentleman in the queue, started talking in Urdu, and stopped me from travelling to Takhar, he suggested waiting for him outside the office. After his clearance, he came to me and recommended to request immigration officer once again to allow us to leave Afghanistan. He was fluent in Dari, a language of on duty immigration staff. He accompanied me talked with immigration staff for more than fifteen minutes and finally convinced them to stamp our passport for exit. I thanked young gentleman, he briefly told his roots in Peshawar, I don't remember his name but I will always admire his support on that very difficult day.
We left Afghanistan with an impression that from Torkahm to Qundus Pakistan is relevant and will remain relevant for decades to come (In Sha Allah) as long as we have likes of Nabi Muhammad, Yaseen and that young gentleman!