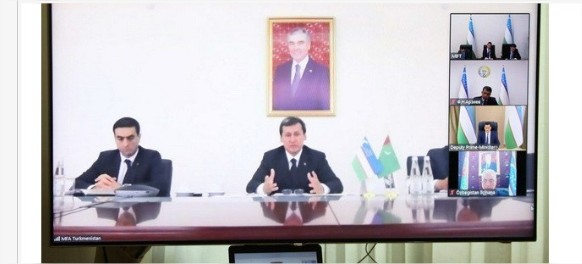 Tashkent, Uzbekistan , MAY 17 –– On 13 May, Deputy Prime Minister and Minister of Investment and Foreign Trade of the Republic of Uzbekistan Sardor Umurzakov held talks via video conferencing with the Deputy Chairman of the Cabinet of Ministers – Minister of Foreign Affairs of Turkmenistan Rashid Meredov.
During the meeting, the current state and prospects of bilateral cooperation in the trade, economic, investment, transport and logistics, and cultural and humanitarian fields were discussed.
In particular, it was noted that the it is necessary to hold in Tashkent in the second half of 2020 a regular meeting of the Intergovernmental Commission on Trade, Economic, Scientific, Technical and Cultural and Humanitarian Cooperation, which has established itself as an effective platform for jointly resolving issues of bilateral cooperation, as well as the first meeting of the Uzbek -Turkmenian Business Council.
The issues of creating border trade zones on the Uzbek-Turkmen border were considered, which could significantly increase the volume of trade, including through the supply of agricultural and household appliances, food products, construction materials, petrochemical products that are in demand on the markets of the two countries.