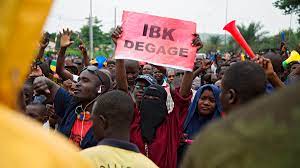 10 civilians, 3 soldiers killed in Mali amid resurgence of violencee airport and the Malian army camp.Bamako, Mali, Ten civilians and three soldiers were killed and 88 militants neutralised in multiple incidents across Mali Saturday, the government has said, in a wave of bloodshed it described as a resurgence of "terrorist incidents".
Early Saturday morning, suspected terrorists attacked the Sevare airport area in the central Mopti region, detonating car bombs, which killed 10 civilians and injured 61 others, the government said in a statement.
The blasts destroyed some houses in the airport's surrounding area, which is home to a Malian military camp.
"Thanks to the legendary determination of our valiant Armed Forces, operating exclusively with their own resources, the attackers were routed and 28 terrorists were neutralised", it said.
A local elected official earlier told that Senegalese soldiers from the UN's peacekeeping mission in Mali, MINUSMA, were involved in the fighting.
MINUSMA's camp covers four hectares (nearly 10 acres) next to the airport and the Malian army camp.
"MINUSMA strongly condemns the 22 April attacks on the Malian Armed Forces (FAMa) camp in Sevare and the nearby car bombings that killed and injured civilians… Shots were also fired toward the MINUSMA camp," the mission said in a statement Saturday.
"MINUSMA declares its readiness to provide all necessary support to the Malian authorities to conduct the required investigations."