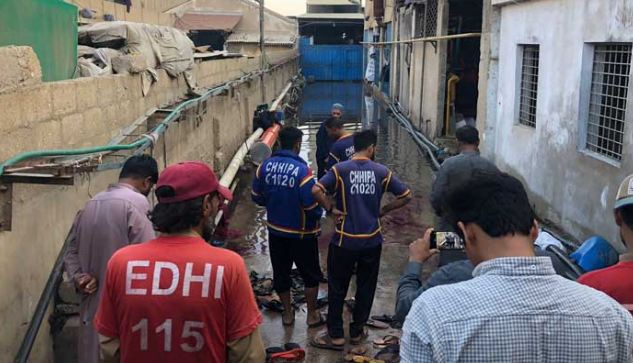 KARACHI: At least 11 people died and several were injured Friday amid a stampede inside the premises of a factory at the Naurus intersection in Karachi's SITE area, the latest incident in which people lost their lives to seek free edibles.
The incident occurred while people were gathered at a dyeing factory in the city's industrial area to collect ration — which is part of charity drives that Karachhites hold every Ramadan to help the needy.
Those killed in the incident include eight women and three children, rescue sources and police officials told.
Google map highlighting the area where the incident took place in Karachi on March 31, 2023.
Police arrests seven people
Superintendent of Police (SP) Muhammad Mughees Hashmi, speaking to journalists, said that the area police confirmed that the incident took place because of a stampede, adding that the local police station was not informed prior to the distribution.
The SP said that seven people have been arrested so far and an investigation has been initiated.
Fearing that the death toll is likely to increase, he revealed that during the stampede water line also burst which fueled the situation.
Taking notice of the unfortunate incident, Sindh Governor Kamran Tesori expressed grief over the loss of precious lives. He directed Karachi commissioner to submit a report immediately.