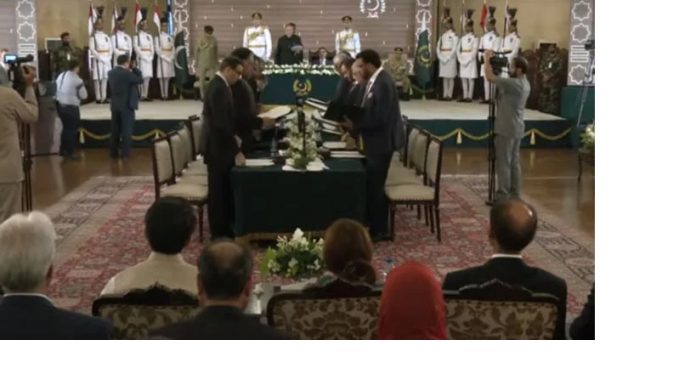 Murtaza Solangi appointed information minister; Jalil Abbas as foreign minister and Lt. Gen Anwar Ali as defence minister
DNA
ISLAMABAD: 18 member caretaker cabinet has taken oath. President Arif Aliv administered the oath.
former governor State Bank of Pakistan (SBP) Dr Shamshad Akhtar is appointed as finance minister, , while former foreign secretary Ambassador Jalil Abbas Jilani is appointed as the interim foreign minister.
Earlier this week, Dr Akhtar — who was also finance minister in the caretaker government prior to the 2018 general election — was conferred Nishan-i-Imtiaz by President Dr Arif Alvi on Independence Day.
She served as the SBP governor from January 2, 2006, for a three-year term, becoming the first woman to head the country's central bank.
Meanwhile, Jilani has 38 years of bilateral and multilateral experience as a public servant and career diplomat, having served as Pakistan's Ambassador to the United States, Belgium, Luxemburg, the EU, and Australia.
Jilani was appointed foreign secretary in 2012, and while serving the post, he was closely involved in negotiations and finalisation of China Pakistan Economic Corridor (CPEC), signing the key agreements for the project during the visit of Chinese Premier Li Keqiang under the then Pakistan Peoples Party (PPP) government.
Top sources in the Prime Minister Secretariat said that eminent textile industrialist and Chief Executive of Ejaz Group of Companies Dr Gohar Ejaz is appointed as interim federal minister for commerce and industries.
Senior journalist Murtaza Solangi has been appointed as the caretaker Information Minister. Ashraf Tarar appointed communication minister, Sarfraz Bugti Interior Minister, Tabihs Gohar Energy Minister, Irfan Asalm Ministe for Law, Jamal Shah minister for culture, Aniq Ahmed Minister for Religious Affairs, Muhammad Sami Saeed, Khalid George, Madad Ali Sindhi also appointed ministers.
Federal ministers
Senator Sarfaraz Ahmed Bugti — Interior/ Overseas Pakistanis/ NARCO
Jalil Abbas Jilani — Foreign Affairs
Shamshad Akhtar — Finance and Revenue / Economic Affairs /Statistics/ Privatization
Lt General (retd) Anwar Ali Hyder — Defence/ Defence Production/ Aviation
Murtaza Solangi — Information and Broadcasting
Sami Saeed — Planning Development
Shahid Ashraf Tarar — Communication (Railways/ Postal Services/ Ports/ Maritime Affairs)
Ahmad Irfan Aslam — Law and Justice / National Resources / Climate Change and Water
Muhammad Ali — Energy and Power / Petroleum
Gohar Ejaz — Commerce/ Textile / Industries / Production
Umar Saif — Information Technology and Telecommunication /Science and Technology
Nadeem Jan — National Health Services, Regulation and Control
Khalil George — National Health Services, Regulation and Control
Aneeq Ahmad — Religious Affairs/ Hajj/ Interfaith Harmony
Jamal Shah — National Heritage and Culture
Madad Ali Sindhi — Federal Education / National Harmony / Youth Affairs
Advisers to PM
Air Marshal (retd) Farhat Hussain Khan — Aviation
Ahad Khan Cheema — Establishment
Waqar Masood Khan — Finance
Special Advisors
Mishal Hussain Malik — Human Rights / Women Empowerment
Jawad Sohrab Malik — Overseas
Vice Admiral (retd) Iftikhar Rao — Maritime Affairs
Wasih Shah — Tourism
Dr Jehanzeb Khan — Govt Effectiveness / SIFC Syeda Arifa Zehra — Education and National Harmony Affairs