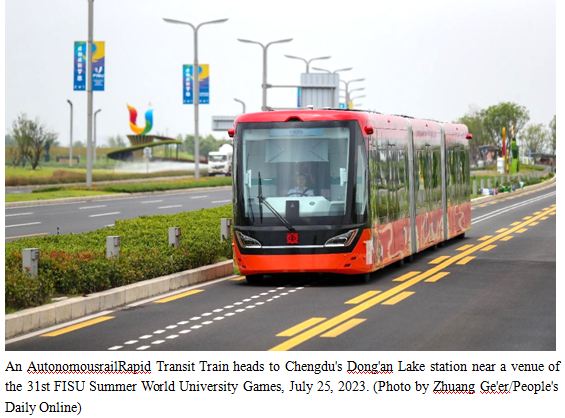 By Li Kaixuan, People's Daily
Games of the Chengdu Universiade are exciting and thrilling, while in the streets and alleyways of Chengdu, scenes of people living in peace and contentment can be seen everywhere.
The Chengdu Universiade just infused youthful vigor into the city, giving it new splendor and vitality.
The sports event has made Chengdu more beautiful and livable. It marks the first time that a city in western China hosts a major international comprehensive sports event. To hold it, Chengdu has built featured blocks and new public service facilities, which all enhance the sense of fulfillment of Chengdu citizens.
Thanks to the Chengdu Universiade, roads in the city are wider and flatter; parks have been built on old streets; over 1,200 old residential complexes are renovated.
Hosting the sports event stimulated new drivers of urban development for Chengdu. New scenarios of sports consumption are emerging in the city, and the sports industry and relevant industrial chains have been strengthened. Chengdu is listed as one of the first national pilot cities for sports consumption, and its sports industry exceeded 100 billion yuan ($13.99 billion) last year.
The Chengdu Universiade has brought abundant development opportunities for the city, promoted steady progress of building Chengdu into a world-renowned city of sports events, and created brighter prospects for Chengdu's sports industry.
Recently, riding the wave of the Chengdu Universiade, a series of cultural exchange activities have kicked off in Chengdu, including the "Time Gravity – 2023 Chengdu Biennale" exhibition at the Tianfu Art Park, which staged performances by artists from some 20 countries and regions. In recent years, the rich cultural offerings have added more cultural flair and depth to Chengdu, significantly enhancing the international influence of the city's arts scene.
The Chengdu Universiade ignited Chengdu citizens' passion for sports, who now see fitness activities as a rising trend. Over recent years, Chengdu has built more than 200 "sports corners" in local communities. Additionally, public sports venues are open for free or at a low price, benefiting more than 4.6 million people. More than 5,000 fitness activities, including community and rural sports events, are being held each year. Hiking, playing ball games and biking down greenways have become go-to leisure pastimes for many Chengdu residents these days.
Today's Chengdu is a miniature of the broader Chinese modernization. Its future is worth expecting.