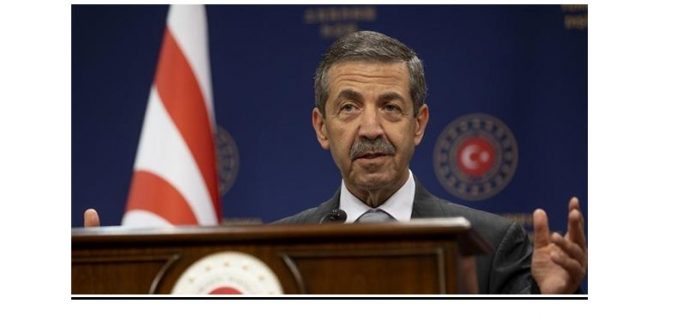 TRNC to get international recognition beyond expectations; EU has last chance to correct its past mistakes; relations with Pakistan are excellent; our Islamabad office gets same treatment we get in Ankara; TRNC shall be opened for international tourists from mid April; status quo in Verosha area to be eliminated
Exclusive
Ansar M Bhatti
LEFKOSA: Foreign Minister of Turkish Republic of Northern Cyprus (TRNC) Tahsin Ertuğruloğlu has said that there is no common ground. There cannot be a common ground so long as we're treated unequally as we have been all these years," he said in an exclusive interview to Daily Islamabad POST, CENTRELINE magazine and DNA News Agency.
He further said, after decades of negotiations based on the idea of reunifying the island through the creation of a federal state, the approach should be abandoned in favor of a two-state solution, a position in line with the stance of the new president of the TRNC, Ersin Tatar. Tatar was elected in October by supporting a two-state solution, a policy backed by motherland Turkey.
Further dilating upon 5+1 meeting the minister said this meeting is not an open-ended negotiation process. Ertuğruloğlu also rejected calls by Greek Cypriot leader Nicos Anastasiades in January for the EU to play a role in the discussions, which in the past have also involved Turkey, Greece and former colonial power Britain. We do not accept the European Union representative presence in the meeting with an observer status. The Greek side is member of the EU and they pursue their own interests in various mechanisms within the union, therefore the EU cannot be impartial. The meeting title is 5+1 and 1 means the United Nations so EU has nothing to do with this meeting. He said the EU committed a grave mistake by admitting the Greek side to the European Union as member. Now it is time for the EU to correct its mistake. In fact by admitting Greek side as a member, the EU blatantly violated the Copenhagen criteria of membership.
"We will attend the meeting in good faith and if the other party responds in the same way, there will be a forward-looking opportunity", the minister added. Minister Tahsin Ertuğruloğlu further said the UN parameters, which have been on the agenda for years on Cyprus have not yielded results so far and it has emerged that an agreement cannot be reached with these parameters. To insist on the available parameters such as federal model will end on deadlock. Turkish Cypriot side's views of a solution model are based on the cooperation of two sovereign states with equal rights living side by side. After the collapse of talks in Crans Montana due to the Greek Cypriot's willful intransigence, the UN Secretary General Antonio Guterres also stated that new views and options on the Cyprus issue could come to the table.
If it is necessary to give more time for both sides and stakeholders to help find some common ground, then we can surely give this initiative another chance but one thing is for sure that this process should not be open-ended. There has to be an understanding within next few months. If there is no agreement, then TRNC will go for international recognition. We are sure there are many countries in this world who do not accept Greek side stand point on the issue.
However, I would make it clear here that once these negotiations fail, then we will sit with our motherland Turkey to devise future course of action. We have all along been in constant touch with motherland Turkey therefore in this scenario ostensibly Turkey will be kept in the loop.
To a question about Pakistan-TRNC relations Minister Tehsin said, they had unique relations with Pakistan and people of Pakistan. We always keep Pakistan in high esteem. Our office in Islamabad gets the same treatment we get in Ankara. TRNC though a small state, yet it fully supports Pakistan on the issue of Kashmir. "We wish Pakistan all the best and we will for sure work together even in the coming days".
When it comes to Muslim countries in general, there are some Muslim countries who shall not be allowed by other countries to support us. Being a Muslim country does not mean that they would support TRNC. As I said, Muslim countries, under pressure from other countries, may show reluctance to recognize us. But I am sure, once we embark on recognition campaign, we will get recognition from countries beyond expectations. These countries include both Muslim and non-Muslims.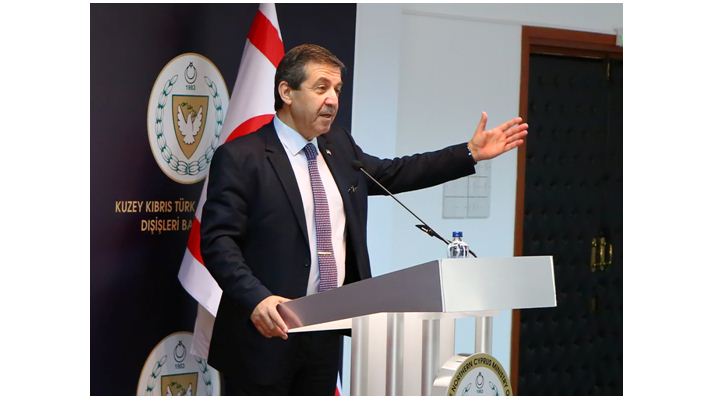 When asked how optimists he was about the outcome and positive approach from the Greek side, the Foreign Minister categorically stated why they should come up with an open mind and positive approach. The world is spoiling them and treating them as if they were the Republic of Cyprus, while this is not the case. Since, the world is supporting them therefore why they should feel it necessary to attend these talks with a positive mind. Having said this, we know very well where do we stand and where the Greek side stands.
To a question the minister told, the government of TRNC has taken a decision to undertake steps on the fenced area of Maras starting with a scientific inventory survey. Steps taken are in line with the international law, first and foremost protecting and respecting the rights of possession of former inhabitants of this town as also called for the relevant United National Security Council resolutions. The unacceptable status quo on the island, which is also valid for the fenced area of Maras, have continued for all these decades due to political considerations and propaganda, instigated by the Greek Cypriot leadership, to the detriment of the said area and more importantly at the expense of its former inhabitants. It should be noted that the TRNC govt decision of asking the initiative of progressive opening of Maras in October 2020 was welcomed by the former Greek Cypriot inhabitants of the fenced area of Maras and they have publicly stated that this decision will provide for them to go back to their properties.
To yet another question about exploration of resources in the area, the Foreign Minister said, the Greek Cypriots have unilaterally licensed international oil companies to conduct hydrocarbon activities and they have passed a legislative bill to establish a so-called national investment fund to manage unilaterally the future capital income from hydrocarbon reserves. Moreover they have signed bilateral agreements with many countries regarding the delimitation of its unilaterally declared so called exclusive economic zone. As a result of Greek Cypriot side's increasing unilateral actions, the Turkish Cypriot side has been obliged to take steps to protect its own rights and interests regarding the hydrocarbon resources around the island.
To a question about COVID situation in TRNC, the Foreign Minister said everyone is suffering and so is the TRNC. But daily cases in our country are less and number of deaths is very low, but then you know we are a small country. Our government is conscious about spread of virus and we are thankful to motherland Turkey for providing us the vaccines. As regards tourist activities we plan to open up country for international visitors and tourists in the mid of April 2021 but with double vaccination.