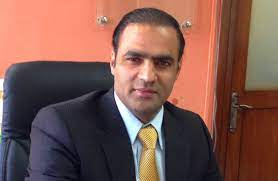 LONDON: A Turkish restaurant has clarified that PML-N's Abid Sher Ali didn't jump the queue and had pre-booked tables for his family after videos of him getting into a verbal spat with a Pakistani man went viral on social media.
On Tuesday night, three sets of videos started circulating: one showing Abid Sher Ali abusing Shahid Khan, the other showing Shahid Khan abusing Abid Sher Ali, and the third video carrying a statement by Shahid Khan's son. On Wednesday, Abid Sher Ali also released a video explaining his version of the events.
The first set of videos was sent to the media by Umar Butt who communicated on behalf of the Pakistani man in the restaurant and gave his name as "businessman Shahid Khan from East London". In the video carrying the statement of Shahid Khan's son, who was present at the scene and was seen filming the incident, it was claimed that Abid Sher Ali jumped the queue with his family, bypassing other customers.
But the Turkish "Gokyuzu Restaurant" said that Abid Sher Ali didn't jump the queue and had a confirmed reservation for 20:30 on July 20 for 13 people. Abid Sher Ali also shared the restaurant's reservation details with the media, showing a confirmation for his booking.