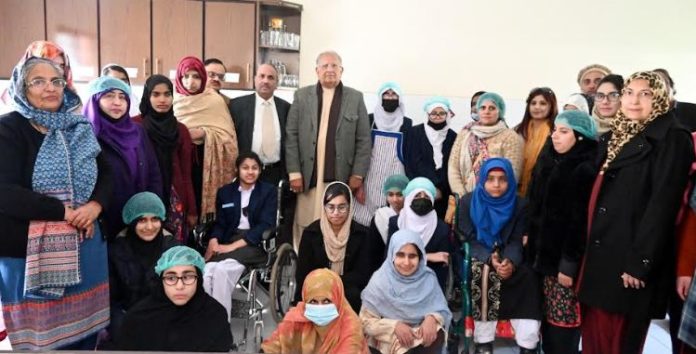 Federal Minister for Human Rights Mian Riaz Hussain Pirzada performs inauguration
ISLAMABAD, FEB 1 /DNA/ – Directorate General of Special Education, Islamabad organized the opening ceremony of Accessible Kitchen and Mess for persons with disabilities (PWDs).
Federal Minister for Human Rights Mian Riaz Hussain Pirzada was the chief guest on the occasion. An accessible kitchen and mess, the first of its kind in Pakistan, has been prepared at the National Institute of Special Education for special people, which was inaugurated by Federal Minister for Human Rights.
On this occasion, he said that today is a great day for me that I am present among you people at the opening ceremony of Accessible Kitchen/ Mess. Special people are the valuable asset of this country. And it is a fact that if they are provided with opportunities for education and training, these people are no less than anyone. Today is a good step in that direction, where special people will be able to live their lives in a better way by learning the skill of cooking without difficulty. He added that it is a matter of pride for us that today from education to the sports field special people have made a name for themselves.
Of course, this is a great success of our special education institutions. I am happy that our trained special people are performing their services with great dignity and responsibility in different fields of Pakistan. We understand the importance and problems of special people very well and always try to solve it.
The government of Pakistan will make more use of the country's resources for the education, training and employment of PWDs to make their lives easier. I am very happy to come here, when I see visually impaired and wheelchair bound girls cooking in the kitchen with smiling faces like normal people. Happily, the whole of Pakistan is represented among the participants who came to learn. On this occasion, Sheikh Azhar Sajjad, Director General (Special Education) said in his welcome speech that the special education centres under the Directorate General of Special Education are providing education, training and rehabilitation to the Persons with disabilities.
The high quality digital assistive devices are also available for the study and teaching of Visually Impaired Persons. The state of the art orthopedic workshop is also there to prepare artificial limbs and assistive devices for Physically Challenged Persons. Degree level classes have also been started for the Hearing Impaired Persons.
The Director General also requested that the Accessible Kitchen and Mess like unique facility, the first one in Pakistan, should also be replicated and established at Provincial Capitals in first phase. Special persons, their parents, teachers, doctors, therapists and even other members of the civil society are also trained in such a way that they can be beneficial in the rehabilitation of special persons.
He further added that the Directorate General of Special Education intends to initiate such other projects for the education, training and welfare of the persons with disabilities in future.=DNA
==========