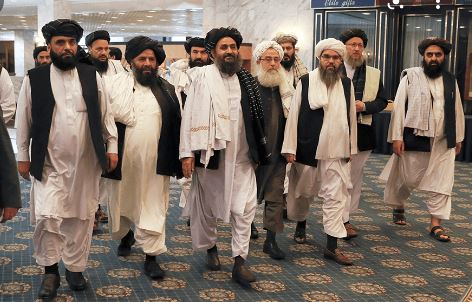 The US loyal western and European world is thinking on different lines, considering "regrouping and re-assembling" of Al Qaeda affiliated militants a serious threat to the global peace
Comment
Shamim Shahid
PESHAWAR: Though certain circles within Pakistan are jubilating and empowering of loyal Taliban militants across the border in Afghanistan, the ground reality is different as some elements are bent up on "maintaining or restoration of what they claim independent, sovereign and autonomous status of motherland." Whereas the US loyal western and European world is thinking on different lines, considering "regrouping and re-assembling" of Al Qaeda affiliated militants a serious threat to the global peace. Both the apprehensions are harmful to much more interests of Pakistan, whereas its leaders and officials from particular mindset are attaching great hopes with Taliban-governed Afghanistan.
Couple of days back an international media outlet aired news pertaining to the visit of Abdullah, son of Osama Bin Laden to Afghanistan whereas he held meetings with top Taliban leaders. Though nothing is mentioned about shelter of Abdullah, definitely the west would blame no other than Pakistan or Afghan Taliban, for alleged facilitation to the family members or followers of OBL who was targeted by US marines in a mysterious operation in the outskirts of Abbottabad on May 2, 2011 last. So far Afghan Taliban has neither endorsed reports of Abdullah's secret visit to Afghanistan in October 2021 last but it generated apprehensions amongst some of the regional countries who were hopeful for return of peace and ending to religious extremism in the region.
No one can deny the fact that Al Qaeda or its other affiliated groups and factions couldn't be disbanded with murder of OBL but all such groups and factions are active and alive throughout the world. For a couple of years, some of the hardliners have experienced their role and capacities in the Islamic States of Iraq and Syria (ISIS) also called Daaesh. But they continued their links and association with the Tehrik Taliban Afghanistan also called Emirate Islami Afghanistan, enabling Al Qaeda and its affiliated groups to "flourish" in scattered areas of Afghanistan after evacuation of the former Soviet Union in the light of the Geneva Accord signed on April 10,1988 last.
So far neither Taliban rulers admitted the presence of Al Qaeda and other foreign militant groups in Afghanistan but Pakistani authorities and Afghan rulers are confirming the presence of banned Tehrike Taliban Pakistan and other Pakistani groups and individual fighters across Afghanistan. Pakistan's Interior Minister after militants' attacks in tribal district Kurram, asked the Afghan Taliban to take action against banned TTP which is carrying out such deadly attacks. Afghanistan's Deputy Information Minister Zabih Ullah Mujahid in reaction said, "We are going to probe." He, however, made it clear that the Taliban regime wouldn't tolerate any one to use Afghanistan soil against any foreign country." Such type of conversation confirms that despite the empowering of Taliban, "mistrust between Islamabad and Kabul continues to hold," which may plunge both the neighbouring countries into irreversible situations.
On the other hand, Pakistan's military establishment had failed in its reconciliation move with banned TTP after the empowering of Taliban in Afghanistan due to judiciary and civil society organizations reluctance. Soon after empowering of Taliban in Afghanistan on August 15th 2021, Rawalpindi-Islamabad through its "most trust worthy loyal Siraj Ud Din Haqqani's Haqqani network" initiated efforts for reconciliation with banned TTP and other independent groups like Shura-i-Mujahideen of Hafiz Gul Bahadar, Lashkar e Islam of Mangal Bagh, Jamaat Ul Ahrar of Abdul Wali Mohmand and others. But some people from civil society organizations have opposed the move, by staging protests and knocking at the doors of the judiciary in Islamabad.
Pakistani authorities, despite facilitating the Taliban to get power at Kabul, had failed in materializing its dreams of getting recognition for Durand Line as a permanent border. Since August, skirmishes, exchanging of hot words and even erecting of fenced wires at different points of Pak Afghan border is a routine. Earlier, such incidents were common to Pak Afghan border in Khyber Pakhtunkhwa but now escalated also to Baluchistan region.
Now on one hand, banned TTP has intensified its acts and actions in almost all of Khyber Pakhtunkwa and on the other, the Baluch separatists also accelerated its counter attacks in certain particular areas of Balochistan. The growing violence has not made uncertain common people from both the provinces of Pakistan as uncertain but made questionable "friendship between Pakistan's military establishment and Afghan Taliban." Media reports from across the border reveal that now Qandahari Taliban is dominating almost of the government organs in Afghanistan, thus minimizing influence of Haqqani network. Like successive democratic, progressive and nationalist minded former rulers, ministers and socio-politico leaders, the Afghan Taliban are also reluctant to address wishes and expectations of Pakistan, especially "recognition of Durand Line as a permanent border" and framing its external relations in according to interests of Pakistan, especially "making limited bilateral friendships and relations with India."
Internally, the Taliban leaders are yet to earn hearts of war-affected Afghans, who have no concern that who is governing and who is not in Afghanistan but desirous for peace and opportunities for survival. Throughout Afghanistan, all those who either remain against government offices or having blood relations with any former office holders fear threats to their lives. Most recently the UN also issued a report pertaining to Human Rights violations which was rejected by the Taliban. But target killing, detention and disappearance on political grounds is considered now routine in Afghanistan. And almost all people who are capable of affordable transportation are on a bid to flee the country for better survival in any foreign country, even in neighboring Pakistan, Iran, Central Asian Republic and others. As a result now Afghan refugees are dominating not only Pakistan and Afghanistan but almost all members of the International community.
In fact, Taliban regime on one hand is making its best to get recognition at diplomatic level which is necessary for combating the increasing financial and economic crises and on the other its leaders are under tremendous pressure of "militants-assembled from Pakistan, rest of Arab and Central Asian countries in scattered areas of Afghanistan." The only way-out is not "implementation of general amnesty, honoring proposals and advice of rival political leaderships in framing of internal and external policies and restoration of Afghanistan's non-aligned and independent status-declared by the former king in early 60s.