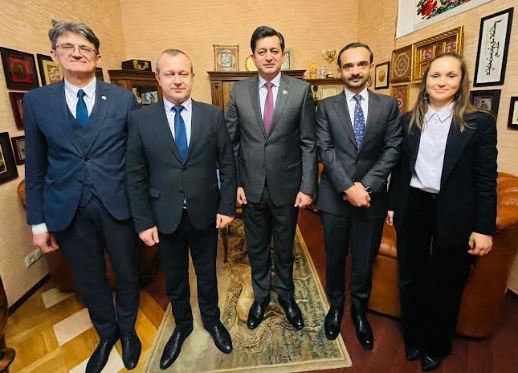 MINSK, NOV 24 /DNA/ – Today, Ambassador of Pakistan to Belarus Mr. Sajjad Haider Khan held a meeting with the Deputy Minister of Agriculture and Food of Belarus, Mr. Ivan Smilgin who is also the Chief State Veterinarian of Belarus. Mr. Valery Bogdanovsky, Head of the International Cooperation Department, and Ms. Hanna Linkevich, Consultant of the International Cooperation Department also attended the meeting. 
Appreciating the ongoing cooperation, meetings of the Joint Working Group on Agriculture in July 2020 and recent participation in the trade exhibitions, the two sides discussed the future development of beneficial cooperation between Pakistan and Belarus in the field of Agriculture. 
The Ambassador noted the positive increase in export from Belarus to Pakistan and highlighted the importance of establishing a win win situation through balancing the trade, which currently is in favour of Belarus. In this regard, the Ambassadors particularly mentioned about the strong intention of the Pakistan side to start export of fish products from Pakistan for which one of the top exporters of Pakistan was in the process of securing registration and import permit. The Belarusian side showed its interests in export of meet and diary products. 
Moreover, the Ambassador also expressed interest of Pakistani companies in participating in the Belagro exhibition scheduled in June 2022 in Minsk.