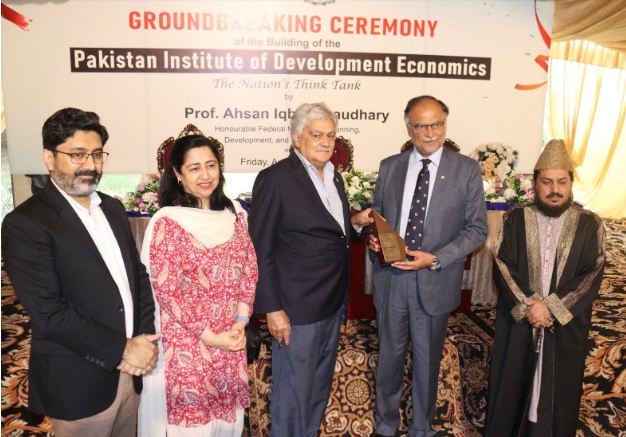 ISLAMABAD, AUG 6: /DNA/ – The Chancellor acknowledged economic research's pivotal role in shaping nations' future worldwide. He emphasized that economic research at PIDE serves as a navigator for policymakers, guiding them toward informed choices that align with the long-term interests of Pakistan. By fostering international cooperation and addressing global challenges, PIDE's research plays a significant role in contributing to a stable and harmonious global economy.
Underlining the government's commitment to equipping Pakistan with an intellectual arsenal, the Chancellor outlined the "5 Es Strategy" focusing on increasing exports, building a knowledge economy, addressing environmental and climate change challenges, securing sustainable energy and infrastructure, and promoting equity and empowerment.
PIDE's role in evidence-based research and carving better policies and strategies was highlighted as pivotal in addressing the challenges faced by the nation. The Chancellor applauded PIDE's efforts in expanding its research dissemination network through various social media platforms, webinars, and the RASTA Competitive Grants Program for Policy-Oriented Research, which has successfully created a network of over 2000 researchers and academicians.
This was stated by the Honorable Minister of Planning Development & Special Initiatives, Prof. Ahsan Iqbal at groundbreaking ceremony of PIDE's own new building in H-8/1 Islamabad
During the Ground Breaking Ceremony, Prof. Ahsan Iqbal, in his address as a chief guest, emphasized the significance of PIDE as the nation's premier think tank, emphasizing that it goes beyond being just a building; it is an intellectual powerhouse and a crucible of ideas where brilliant minds converge to address the complexities of Pakistan's economic challenges. He further underlined the institute's commitment to harnessing the power of intellect for an equitable and thriving future for the people of Pakistan.
Research and innovation, the Chancellor asserted, hold the key to national progress and development. In today's rapidly evolving global landscape, research serves as a guiding compass, illuminating the path toward prosperity, sustainability, and societal advancement. By unlocking new frontiers of knowledge and catalyzing transformative change, research empowers the nation to harness human ingenuity and creativity.
The new PIDE building, the Chancellor declared, will provide a state-of-the-art home for the think tank's ongoing pursuit of knowledge and understanding. This smart, vertical, and environmentally friendly campus will further strengthen PIDE's tradition of excellence and its commitment to walking the talk.
He concluded by expressing his best wishes for the successful completion of the construction and the future endeavors of PIDE. He emphasized his belief that PIDE's new home will solidify its position as the nation's leading think tank and contribute significantly to Pakistan's journey towards becoming a knowledge economy.
Earlier, Dr. Nadeem ul Haque, the Vice Chancellor of PIDE, extended heartfelt gratitude to the Honorable Chief Guest, Prof. Ahsan Iqbal, for gracing the occasion and honoring PIDE with his esteemed presence. He remarked, "We are deeply honored to have Prof. Ahsan Iqbal as our Chief Guest today. His support and encouragement further strengthen our resolve to strive for excellence in research and academic pursuits."
During the Groundbreaking Ceremony of the new PIDE building, Pro Vice Chancellor, Dr. Durre Nayab, unveiled the institute's forward-looking vision for a vertical approach toward development. Dr. Nayab emphasized the institute's commitment to practicing what it preaches, opting for a vertical structure rather than sprawling horizontally across acres of land.
"We believe in efficiency in all aspects of our work, and that includes the way we utilize land and energy," stated Dr. Nayab. The new PIDE building is designed to maximize land use while minimizing its environmental footprint. The vertical design aligns with the institute's dedication to environmental sustainability and responsible resource utilization. By going vertical, PIDE aims to set an example in promoting smart and efficient building practices in the country.
She further underscored the importance of aesthetics in the new building's design. "An efficient building doesn't mean compromising on aesthetics," she said. The institute envisions a modern and visually appealing campus that fosters a conducive learning and research environment. With a strong emphasis on energy-efficient technologies and eco-friendly practices, the new PIDE building aims to be a model for sustainable architecture in Pakistan.
The Pro Vice Chancellor's vision resonates with PIDE's commitment to leading by example in research, policy, and now in building design. The institute's dedication to a vertical approach symbolizes its aspiration for intellectual growth and innovation while remaining conscious of its environmental impact.
During the event, a large number of PIDE's employees, faculty members, and researchers were present, reflecting the institution's strong commitment to collective growth and progress. Dr. Nadeem ul Haque acknowledged their dedication, saying, "I am proud to stand amidst our passionate and talented team. It is their relentless efforts and commitment that have led PIDE to this moment of laying the foundation for our new building."
Representatives from the Planning Commission were also in attendance, demonstrating the significance of the event at a national level. Dr. Nadeem ul Haque acknowledged their support and collaboration, stating, "We are grateful for the continued support of the Planning Commission, whose cooperation has been invaluable in our journey towards shaping policies and driving sustainable development."
The ceremony concluded with an air of enthusiasm and optimism as the participants looked forward to the bright future that PIDE's new building represents in advancing knowledge, research, and socio-economic development in Pakistan.