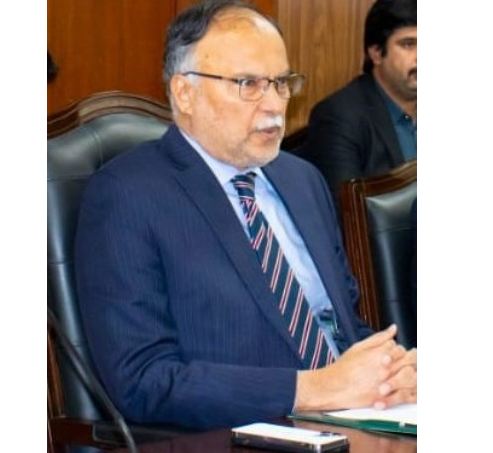 "Wherever the BRI has gone, the local people can testify that it has had a very positive impact,"
ISLAMABAD, Apr 19 (DNA): Minister for Planning Development and Special Initiatives Professor Ahsan Iqbal on Wednesday strongly rejected the negative perception about China's Belt and Road Initiative (BRI) dubbed as a 'debt trap,' saying stories were concocted to spread propaganda in global geopolitics of competition.
"I don't think it's a 'debt trap' as I believe it's a fact trap to distort the spirit of BRI," the minister said in response to negative perceptions against the BRI while talking to international media representatives here.
"Wherever the BRI has gone, the local people can testify that it has had a very positive impact," he added.
The BRI initiative was taken for the first time in 2013, when the then-prime minister Nawaz Sharif met Chinese premier Li Keqiang in Beijing. The focus was on connecting China with the Chinese-invested Pakistani port of Gwadar through highway, rail and pipeline infrastructure.
Ahsan Iqbal appreciated China for extending the BRI to Pakistan in the shape of the China-Pakistan Economic Corridor (CPEC), which gave Pakistan a great opportunity in areas of energy, infrastructure, telecommunication, industrial cooperation and in unlocking hidden treasures like massive coal deposits in Thar desert.
He described the significance of the project, saying "Gwadar Port City is set to become a major trade and commerce hub in the region with its Free Zone and investment from Chinese companies."
The planning minister highlighted the strategic location and potential for trade in Gwadar, stating that goods could be shipped to China through Gwadar in almost one-tenth distance from the South China Sea.
He said the progress and implementation of CPEC projects were being personally supervised by Prime Minister Shehbaz Sharif, and despite negative perceptions, the government had reiterated its commitment to completing the projects on time. "The government's top priority is to attract more private sector investment in Pakistan, particularly in the mining sector which holds tremendous potential for value addition and development," said the planning minister while commenting on future CPEC development projects.
Regarding potential partnerships between Pakistani and Chinese companies, Ahsan Iqbal said the government was promoting exports to third countries through joint ventures and seeking Chinese companies' cooperation to set up industries in Pakistan for joint production and export.
"As the year 2023 marks the decade of CPEC and the strong partnership between Pakistan and China, both Pakistan and China will be celebrating 10 Years of the BRI and CPEC on July 5, 2023," he said recalling a decade-long saga of undeterred cooperation between the two countries.
In line with the 10th anniversary of CPEC, a flagship project of BRI, he said high-level Chinese delegations were scheduled to visit Pakistan to witness the achievements made since the inception of CPEC.