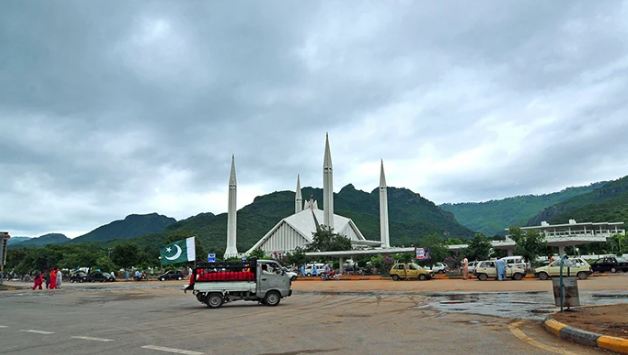 ISLAMABAD: The federal capital's air quality was reported to be healthy on Tuesday despite the recent dry weather and ongoing development projects on two major roads.
Air pollution in the metropolis has remained low since the onset of the spring season as prolonged rainy weather helped in limiting the ratio of pollutants in the atmosphere.
The Pakistan Environmental Protection Agency's (Pak-EPA) daily air quality report indicated a reduced ratio of air pollutants and stated that the air quality was healthy. The agency is responsible for ensuring the protection of the environment under the Pakistan Environmental Protection Act 1997.
One of the hazardous air pollutants — a particulate matter of 2.5 microns (PM2.5) — was measured at 14.46 micrograms per cubic meter on average in the last 24 hours, which was within the healthy range of 35 micrograms per cubic meter, according to National Environmental Quality Standards (NEQS).
PM2.5 is generated by the combustion of an engine, industrial emissions, burning garbage or inflammable material, and dust blown around by fast cars on non-cemented patches of roads.
EPA officials claim that vehicular emissions due to an increased number of automobiles were one of the leading causes of bad air quality. Industrial emissions had already subsided due to carbon-absorbing advanced technology installed at various steel manufacturing units, they added.
Senior pulmonologist at the Pakistan Institute of Medical Sciences (PIMS) Dr Zia Ul Haq told APP that exposure to dry and cold air causes breaches in the lining of the respiratory tract which could lead to an infection and also damage the normal secretions taking place inside the lungs, causing respiratory ailments.
He said pulmonologists usually advise those over the age of 50 or patients with chronic heart, kidney, and lung diseases to get the flu vaccine during the peak winter season to avoid respiratory diseases.
The senior pulmonologist also advised people to avoid unnecessary prolonged outdoor visits during mornings and evenings in the winter season, adding that when outside, they should properly cover their eyes and faces.
Moreover, Dr Haq also advised people to drink warm fluids, such as tea, to control damage to the respiratory tract amid bad weather and air quality.