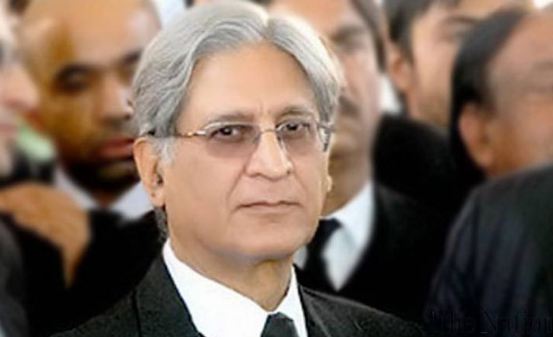 ISLAMABAD, Jun 17 (DNA): Chaudhry Aitzaz Ahsan in a petition in the
Supreme Court of Pakistan has challenged trials of civilians in military
courts seeking the court to declare them unconstitutional.
Salman Akram Raja advocate has filed petition on behalf of seasoned
lawyer Aitzaz Ahsan.
Aitzaz Ahsan has petitioned to the apex court to declare the federal
government's decision to conduct trials in military court as null and
void.
"The federal government has rubber stamped the corps commanders'
decision of conducting trials in the military court," text of the
petition read.
"The decision of holding military court trial of civilians under Section
2 of the Army Act has been in contravention to Article 59 of the
constitution," according to the plea.
Petition argued that Section 94 of the Army Act and the rules of 1970
are incomparable and pleaded the court to declare Section 94 and the
rules as unconstitutional.
The petitioner also seeks the court to declare the decision of handing
over the accused to the military authorities as void and sought court
order for acquittal of civilians handed over to the military.
Prime Minister Shehbaz Sharif, Defence Minister Khawaja Asif, Interior
Minister Rana Sanaullah, law, interior and defence ministries, cabinet
dievision, chief secretaries and inspectors general of all the provinces
were made respondents in the petition.