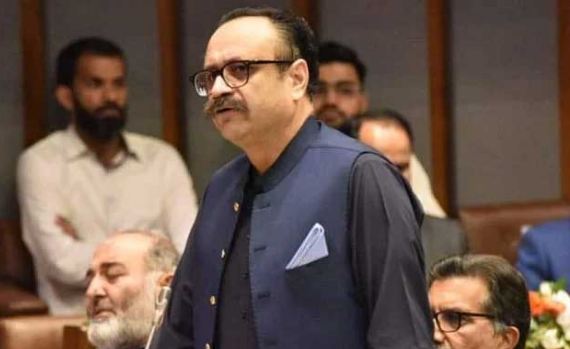 MUZAFFARABAD: The Azad Jammu and Kashmir (AJK) Supreme Court Wednesday fixed former prime minister Sardar Tanveer Ilyas' petition for hearing tomorrow (Thursday) against the high court's decision to disqualify him from the top office.
The development came after the registrar of AJK SC removed the objections against the third appeal.
In a major setback to Pakistan Tehreek-e-Insaf (PTI) on Tuesday, the AJK High Court removed Ilyas from the post of prime minister, making him the region's first premier to be disqualified in a contempt of court case.
Following the disqualification, the politician moved AJK's top court against the high court's decision via a plea that mentioned Ilyas as the "AJK prime minister".
At this, the top court's registrar's office returned the plea with objections.
Earlier, AJK Chief Justice Raja Saeed Akram censured the petitioner's lawyers for mentioning Ilyas as the "current prime minister".
"Why didn't you comply when the registrar had raised objections," he asked.
At this, Ilyas's lawyer requested the court to consider it written "former prime minister".
"How could we read it as 'former'. You are a senior lawyer and this is Supreme Court [of AJK]," the justice remarked.
He observed that the high court's ruling will be maintained till the top court takes action and Ilyas would be considered a former prime minister.
The court then directed the lawyers to file new plea, saying that the court will see when it has to take it up. After this, the lawyers left for removing the objections imposed on the plea.
Before the hearing, Ilyas's lawyer Sardar Raziq Khan said while talking to media that there was a proper procedure to disqualify a premier in the Constitution.
"Election Commission cannot disqualify a prime minister without following [that] procedure," the lawyer said.
He further stated that the maximum penalty for a contempt of court is six months.
"Sardar Tanveer Ilyas is still the prime minister of AJK," Khan said terming the notification disqualifying Ilyas as "unconstitutional".
AJK High Court disqualifies Ilyas
Tuesday's decision of the high court came after Ilyas was summoned to AJK's Supreme Court and High Court for using a "threatening tone" in one of his speeches.
A full bench, led by Justice Sadaqat Hussain Raja, conducted the hearing of the case. During the hearing, the clips featuring Ilyas were played.
Ilyas gave an unconditional apology to the court, saying "I apologise unconditionally if any of my words hurt the judge."
But the AJK premier was sentenced till the rising of the court.