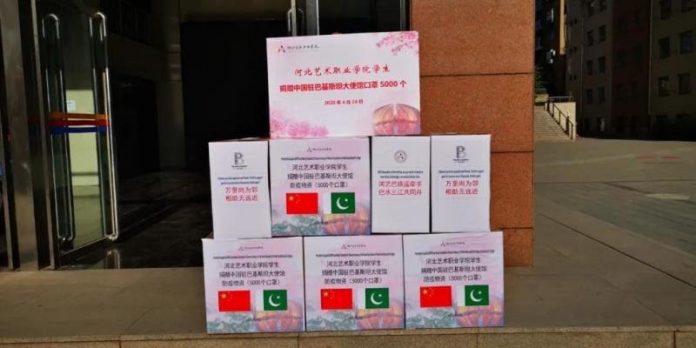 Islamabad, May 8 (DNA): All sections of Chinese society are generously supporting Pakistan, donating medical supplies and funds, sharing experience of anti-epidemic and dispatching medical experts to overcome COVID-19 virous.
According to Gwadar Pro, in recent fortnight, Chinese government and the people, enhanced their support to Pakistan in its efforts, to fight the epidemic.
On April 24th, Chinese military sent a batch of medical supplies to Pakistan, such as masks, testing kits and protective suits. Chinese military pasted cards with warm slogan and army emblem on the boxes of supplies.
Peering with the shipments, a team composed of military medical experts was also dispatched to support Pakistan overcome the outbreak.
A high school in China Hebei province donated 5,000 medical masks to Pakistan. With the help of the Pakistani embassy in China, this high school has set up a donation channel. Students donated their pocket money and purchased masks uniformly.
On the same day, a batch of medical supplies donated by the government of China's Ningxia Hui Autonomous Region departed from the provincial capital. Including 1,000 N95 masks, 20,000 medical masks, 500 protective suits and so on amounted to more than 120 thousand CNY or RB 2.7million , those supplies was sent to support Punjab to cope with epidemic.
On April 26th, the first batch of medical supplies donated by China Three Gorges Corporation (CTG) for Pakistan to contain COVID-19 arrived at the Islamabad International Airport. Including more than 400thousand medical masks, 8,000 protective suits, thousands of other protective devices and 33respirators gross weighed 13tons.
This batch of supplies was considered as the largest donations Pakistan has received from foreign enterprises since the outbreak of the virus in the country.
On April 30th,Chinese Ambassador to Pakistan Yao Jing handed over 1500 packs of food such as rice, flour, sugar, oil and daily necessities to Minister of State for SAFRON and Narcotics Affairs Shehryar Khan Afridi as donation for the Afghan refugees trapped in camps in Pakistan due to lockdown amid COVID-19 pandemic.
On the same day, Zong (China Mobile Pakistan) has donated Rs7 million to Prime Minister Relief Fund for COVID-19 Pandemic Relief Fund 2020. SAPM Zulfikar Bukhari thanked the CRO for donating generously towards the PM corona relief fund and urged private sectors to join the government's efforts in fight against COVID-19.
Simultaneously, a volunteer team comprised by Chinese students in Pakistan has also supported Pakistan to fight against COVID-19.
Ma Bin, President of the Pak-China Education and Culture Center, Li Qiang, President of the Chinese Students in Pakistan association, and Wang Jin, leader of the public welfare group of the Chinese Students in Pakistan association, jointly organized and mobilized Chinese volunteers to help Pakistan tiding over the difficulties.
Up to May 4, this team has visited more than 2,200 impoverished families in Islamabad, Rawalpindi, Lahore and Kashmir, as well as a welfare home and a primary school in refugee camp. The food packs containing rice, flour, oil, sugar, beans and milk tea, were sent to impoverished families who have run out of the food.
On May 5th, the third batch of supporting packs donated by the Chinese general consulate in Karachi has been distributed. Those supplies containing food and other necessities were distributed to 150 poor families in southeastern Balochistan, the report added.