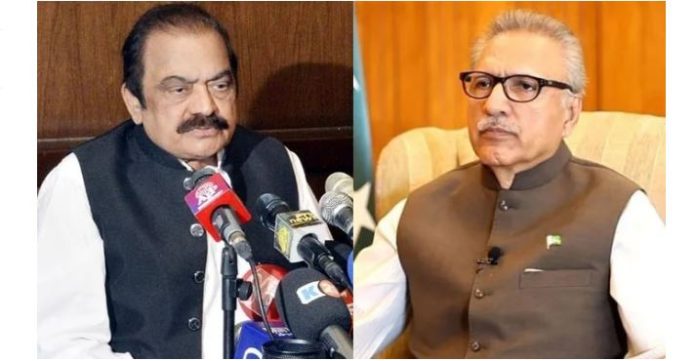 ISLAMABAD: Interior Minister Rana Sanaullah censured President Dr Arif Alvi, asking him to respect his constitutional stature as he has nothing to do with the date for elections, The News reported Sunday.
The interior minister, in a statement, said that Alvi should act as the president of Pakistan and not as Pakistan Tehreek-e-Insaf (PTI) Chairman Imran Khan's spokesperson.
The Pakistan Muslim League-Nawaz (PML-N) leader stated that the former prime minister, prior to this, made the president, speaker, deputy speaker and governors do unconstitutional things. 
He said Alvi was intruding into the Election Commission of Pakistan's (ECP) domain, regretting that Khan was pressurising the electoral body while using the office of the president.
The minister said that President Alvi was an accomplice in PTI's foreign funding case.
On the other hand, Defence Minister Khawaja Asif said that the president should remain within his constitutional limits.
Taking to Twitter, Asif said that the president should not trespass the ECP's limits. "He [President Alvi] should not do politics. He should remember that he usurped the constitutional post as a result of a selection/occurrence in 2018."
He also posted an excerpt of a Supreme Court verdict as a "reference and warning" in his tweet.
Meanwhile, the president while addressing a conference earlier, said that democracy could be strengthened by implementing the Constitution, so elections must be held as per the constitutional requirement.
Referring to the current situation in Punjab and Khyber Pakhtunkhwa, Alvi said he once again wrote a letter to the chief election commissioner for holding a meeting so that the election dates could be announced in both provinces as per the constitutional requirement.
Dr Alvi said it was a constitutional requirement to hold the elections within 90 days of the dissolution of any assembly, so matters should be settled as per the Constitution.
On February 8, President Alvi had written to the ECP, urging the body to ensure that both provincial and national general elections are held within the constitutionally mandated time.
"Recent history of the world shows that delays endanger democracy in the long run," the Presidential Office had said at the time.