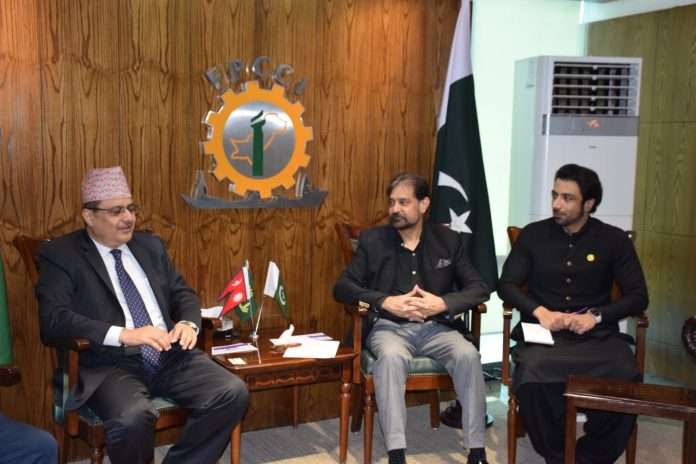 DNA
ISLAMABAD: Ambassador of Nepal Tapas Adhikari visited the Federation of Pakistan Chambers of Commerce and Industry (FPCCI) in Islamabad and had a meeting with the Chamber President Mr. Irfan Iqbal Sheikh and office bearers of the Chamber.
During the meeting, he shared the features of Nepal-Pakistan relations that both countries enjoy excellent bilateral relation based on friendship, mutual trust and cooperation and now it is a time to translate the goodwill of two countries into economic cooperation and interactions.
Both countries are aspiring for development and need to maximize the economic opportunities whatever available with them for the benefits of people. He also shared the Government of Nepal economic policies to attract foreign direct investment that could be useful to them to promote trade and investment. As neighboring country, both Nepal and Pakistan are members of SAARC and have similar cultural and social backgrounds.
Since the Chamber has great role to mobilize the entrepreneurs and businessmen, I suggested them to visit Nepal to explore business opportunity. I also shared that Nepal is a hub of adventure tourism and it has excellent hospitality industry in South Asia and suggested them to visit Nepal with friends and family for their official or personal business to enjoy Nepali hospitality, food, culture and other tourism activities.
The President of the Chamber and members appreciated the visit and information on business opportunities in Nepal. They expressed their eagerness to translate the Nepal-Pakistan relations into economic field. They assured that they will make a program to visit Nepal to explore business opportunities and to interact with Nepali businesspersons and assured full cooperation of Chamber to the Nepal Embassy in promoting Nepal-Pakistan economic relations.
FPCCI is an umbrella organization of Chambers of Commerce and Industry in Pakistan. Established in 1950, FPCCI is playing an active role in presenting problems of trade, industry and environment and safeguarding the interests of the private sectors in Pakistan. It has offices in Islamabad, Lahore, Peshawar, Quetta and in Karachi.