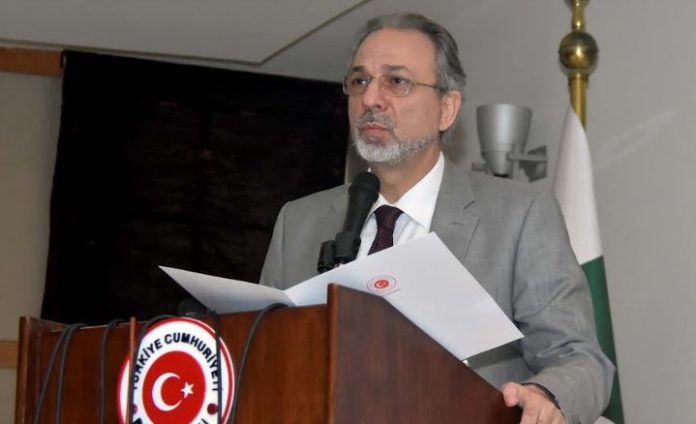 Says at least 41 thousand people lost their lives and 105 thousand people injured because of these massive earthquakes. – More than 250 thousand search and rescue personnel are currently on the field
Special Correspondent/DNA
ISLAMABAD: Ambassador of Turkiye Mehmet Pacaci has said,  Pakistan was among the first countries to respond to Turkiye call after the devastating earthquake that hit the Kahramanmaraş province.  In the very beginning of the earthquake-disaster, Türkiye had called for international help.
102 countries offered assistance, 59 countries were/are on the ground for search and rescue nearly with five thousand staff. – The Government of Pakistan along with our Pakistani brothers and sisters, was among the very first responders to earthquake disaster.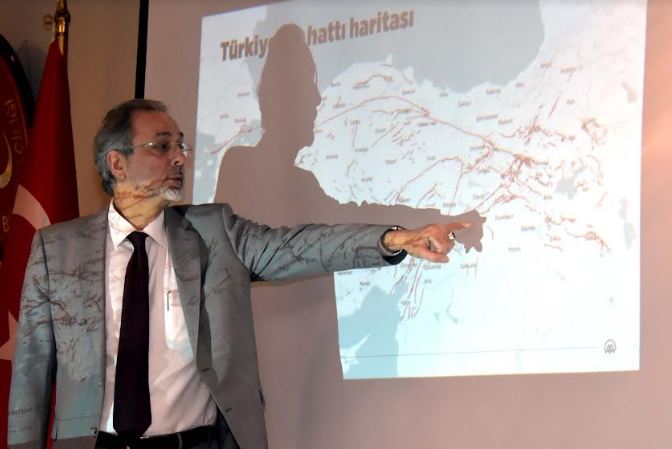 Ambassador Pacaci expressed these views while addressing a press conference on Tuesday.
He said, Prime Minister Sharif got in touch with us and with our authorities in the very beginning of the disaster. The Prime Minister and the Foreign Minister Bilawal Bhutto Zardari, along with other Federal Ministers visited the Embassy to express their condolences. -The very recent visit of PM to Türkiye, to Adıyaman, one of the most affected provinces from the earthquake, also means a lot for the Turkish people.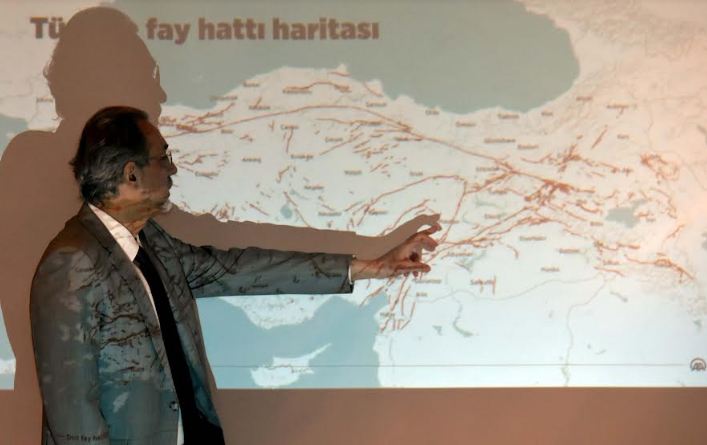 He said- Up to this date, at least 41 thousand people lost their lives and 105 thousand people injured because of these massive earthquakes. – More than 250 thousand search and rescue personnel are currently on the field, whose work is coordinated by Turkish Disaster and Emergency Management Presidebcy-AFAD. In addition to those staff of AFAD on the ground, more three thousand foreign personnel from different parts of the world are exerting their efforts to save lives. – Prime Minister Sharif announced that every possible support and aid will be provided to Türkiye and exert every effort to heal the wounds of the earthquake-affected areas. –
The Government opened an account – Relief Fund- for financial aids. – the PM also instructed National Disaster Management Authority of Pakistan to coordinate all in-kind aids provided by Pakistan with our authorities. –
The NDMA, the ambassador added, has sent nearly four thousand winterized tents, more than eight thousand blankets to Türkiye since the first day of the disaster, in accordance with the needs of the earthquake-affected areas, all coordinated with our Embassy. – Nearly three thousand winterized tents and 25 thousand blankets are on the way to Türkiye by road.
'They are all planned to be arrived in Türkiye Hatay, one of the most affected province, on February 23. – This week and next week more than four thousand winterized tents will be sent to Türkiye with chartered cargo flights'. –
Upon the instruction of Prime Minister, in addition the airway and road way, a maritime bridge will also be established. A ship of Pakistani navy will start trip from Karachi port in the first week of March and will arrive to Türkiye-Mersin Port in thirteen days. This ship will be carrying three thousand five hundred tents. – Pakistan, being the leading tent producing country in the world, with all its manufacturers will be providing most of the needed winterised tents of Türkiye, inshallah, Ambassador Pacaci added.
'We should also put a special emphasis on the search and rescue teams of Pakistan. The USAR (Urban Search and Rescue) teams of 84 staff, including army personnel and 1122 rescue teams, were dispatched to Türkiye in the first day of the disaster. Those were amongst the very first USAR teams to reach the earthquake-affected areas'.
They have saved many lives, 28 people alive from rubbles, including 10 years-old boy after 137 hours. -Moreover, for relief operations of the international organizations and NGOs, like United Nations High Commission for Refugees (UNHCR), International Organization of Migration (IOM) and International Federation of Red Cross (IFRC), Pakistan have been one of the important global centers, as well. In these relief operations carried out in coordination with our Consulate Generals in Karachi and Lahore, NDMA has also been the main supporting institution. -We are receiving hundreds of support messages and calls from also all provinces and walks of Pakistani society. – Pakistani NGO's, including Pakistan Red Crescent and universities are also in contact with our Embassy and with our consulate-generals, he further told.
To a question he said, they have been and still are providing in-kind assistance like medicines, food, medical equipment etc. to Türkiye. We should thank them once again in here. –
'We also would like to extend our gratitude to our beautiful Pakistani brothers &sisters for their prayers and good wishes for the recovery of our country. We feel their prayers deep in our heart. We believe that we will overcome this disaster with their invaluable support, he concluded.