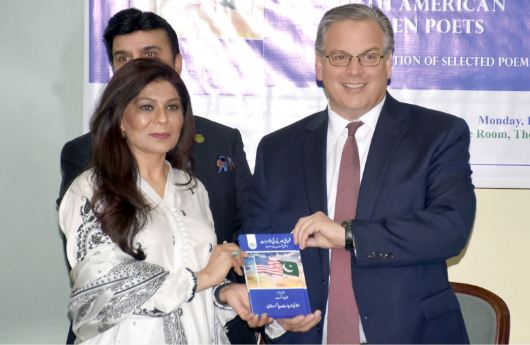 DNA
ISLAMABAD, Feb 27: Adviser to Prime Minister for Political, Public Affairs, National Heritage and Culture Engr. Amir Muqam has said the translation of American poetry in Urdu is not just a literary work but actually another loop in the chain of friendship Pakistan has with US that further strengthens it.
Speaking at the launching ceremony of "North American Women Poets Urdu Translation of selected poems here at Pakistan Academy of Letters (PAL), Engr Amir Muqam said that relations between Pakistan and America are historical, multilateral and strategic.
Praising US Ambassador to Pakistan, he said that public diplomacy plays vital role in strengthening relations between states", adding that culture is the tool that promotes public diplomacy.
He lauded the efforts of US Ambassador for taking keen interest in learning about Pakistan's cultural heritage, adding that wherever you went you must have found love and warm welcome by the people of Pakistan.
Engr. Amir Muqam said that Pakistan want better relations with the rest of the world, adding that people to people ties should be further strengthened.
Adviser to PM said that under the leadership of Prime Minister Muhammad Shahbaz Sharif, we are determined to promote our relations with all the friendly nations and our partners.
He said "I would also like to invite Americans especially the writers and artists to come and visit our beautiful country and take up joint assignments and exchange cultural wisdom with each other.
"I have seen US embassy's efforts in other departments under my Division such as National Library", adding that I would request more cooperation like this in the future.
He said that he is always available for any assistance personally and in the capacity of Adviser to Prime Minister on National Heritage & Culture and Public & Political Affairs across Pakistan. "Let me admit that translating native piece of work from North American English language into Urdu is a laborious task," he added.
Adviser to PM congratulated Naheed Virk for this piece of art and appreciated her knowledge and her commitment with literature.
He said that US has always stood-by Pakistan in the times of man-made or natural disasters. He said that during recent flood US provided its support
He said that unfortunately, in last four years, this friendly relation was badly affected by the self-satisfying ideology of a single man. His false claim of US involvement and conspiracy against his government put these nations to a bad name, he added.
He said that being responsible for these bad relations he has now taken a U turn.
All his actions were to keep his firm grip on the nation's resources to prosper his house in Bani Gala. His self-centered ego is the obvious reason that today we have to repair the losses in economy and do extra efforts to build Pakistan's soft image in the eyes of our American friend.
The book is translated by Naheed Virk and published by Pakistan Academy of Letters (PAL).
Fedreal Secretary, NH&CD Fareena Mazhar said that this book is very unique in its kind. She said that the Division is on the way to achieve governments goals to strengthen friendly ties with other countries and this book is a step towards this ends.
US Ambassador to Pakistan Donald Blome said that this is the occasion of the 75th anniversary of Pakistan-US relations. He further said that this book is a window through which urdu reader can see the view of american society and literature.
Dr. Yousuf Khushk, Chiarman, PAL said that this book is an important addition in PAL's publications.
The poets included in this selection are the pillars of American Modern Literature. He further said the translater of the book Naheed Virik has done a great job.
Naheed Virik thanked PAL for assigning her the project of this book.
Later, Adviser to PM Engr Amir Muqam and Ambassador of USA Donald Bloom also visited Hall of Fame at PAL.