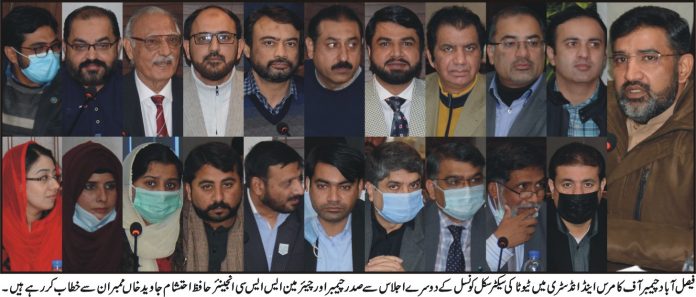 Ashfaq Mughal
FAISALABAD: Branding has become a buzz word in this age of economic competition and we must promote our city and beloved country through our quality and innovative products, said Mian Muhammad Adrees former President Federation of Pakistan Chambers of Commerce & Industry and Faisalabad Chamber of Commerce & Industry (FCCI). He was addressing the Annual General Body meeting of the Foundry & Engineering Industries Owners Association (FEIOA) in which new office bearers for the year 2021-22 also took over their offices.
Congratulating the newly elected President Seth Iftikhar Ahmed and General Secretary Mian Ashfaq Ashraf, he said it is very encouraging that they have been elected uncontested because of their devotion, commitment and popularity among this sector. He said that FEIOA has a close working relationship with National Group which is the mainstream body of the business community. He said that election of a new cabinet of the Foundry & Engineering Industries Owners Association will further strengthen their liaison with FCCI to ensure speedy resolution of their genuine problems.
Mian Adrees said that "Toka" has also become a symbol of Faisalabad like its quality textile products. He said that textile and engineering sectors have to play their pivotal role in the overall development of Pakistan as both these sectors have successfully completed their initial evolutionary stage. He said that we must adopt new technologies to maintain the current pace of progress and prosperity in different sectors including textile, foundry and engineering. He also mentioned the corona related restrictions and said that despite all odds, the engineering sector has grown substantially. Quoting an idiom "survival of the fittest" he said that we must keep pace with our competitors otherwise we will be a loser and those tracking our footprints will march past us. Hence every business entrepreneur must continue to harness his professional skills and expertise in addition to updating its machinery and human resource. He said that initially the lawn was a product of Karachi. "His father started its production in Faisalabad and now lawn has become synonymous with Faisalabad", he said and added that in the Musharraf era the raw material of the engineering sector was costlier than its finished product. He pointed out this issue and the Government took corrective measures which laid down a strong foundation for the expeditious growth of the engineering sector. "Now we must concentrate on the production of finished engineering goods to fulfill our domestic needs", he said and added that for this purpose we must switch over to new and innovative technologies so that we could cut down our production cost in addition to enhancing the quality of our products.
Earlier Engineer Hafiz Ihtasham Javed President Faisalabad Chamber of Commerce & Industry (FCCI) underlined the importance of textile and engineering sectors and said that we have to produce textile machinery and agriculture appliances within the country instead of importing these items. He said that Faisalabad has huge untapped potential for growth and we must utilize it to give a quantum jump to our production sector. He said that no doubt we have multiple problems which are hampering our growth but it is a positive sign that the present Government is ready to listen and resolve our genuine problems. He said that we must have close liaison with concerned Government departments and request them to address our issues in the next year's federal budget. He said that we have also started work for the preparation of budget proposals which would be presented to the Federal Ministry of Finance & Revenue. "In this connection a meeting of various trade bodies have been convened for the formulation of budget proposals", he said and requested the Foundry Association to submit their specific proposals in writing so that it could also be made a part of the comprehensive budget proposals.
Seth Iftikhar and Mian Ashfaq Ashraf also addressed the meeting. Highlighting the issues and problems, they also presented a souvenir of the association to Mian Muhammad Adrees.