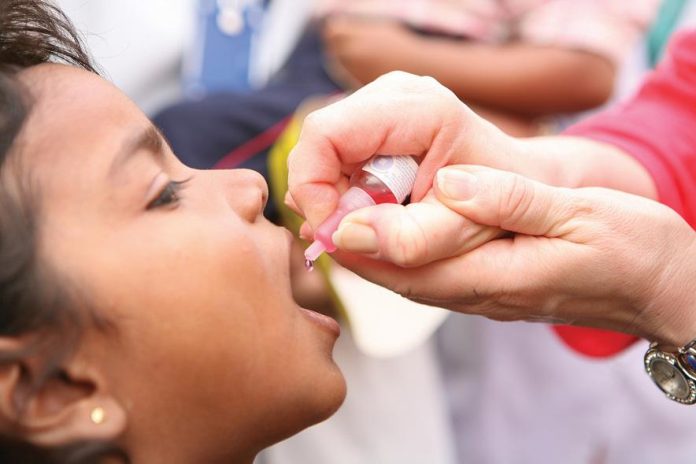 From Our Correspondent
PESHAWAR Emergency Operations Center Khyber Pakhtunkhwa is all set to conduct Sub- National Immunization Drive (SNID) in selected districts of the province from August 07, 2023 wherein over 2.72 million eligible children will be vaccinated against the crippling virus at their doorsteps.
During this polio vaccination drive titled Sub- National Immunization Days/ Outbreak Response (SNID/OBR), teams will administer Oral Polio Vaccine (OPV) to all eligible children under five in eight complete and nine partial districts of the province while in district Peshawar and Khyber fractional dose of Inactivated Polio Vaccine (fIPV) will also be administered to children falling in the age bracket of 4 months to 59 months to further boost their immunity against polio virus and protect them from lifelong paralysis.
The decision to this effect was taken in a high-level meeting chaired by Additional Secretary Health for Polio Eradication/EOC Coordinator Muhammad Asif Rahim here in Provincial Emergency Operations Center (PEOC) onFriday.
The meeting was attended by Deputy Coordinator EOC Muhammad Zeeshan Khan, team leads UNICEF, WHO & NSTOP, officials of health department and other relevant stakeholders.
The meeting was informed that during this campaign polio drops will be administered to 2,466,828 children under the age of five in eight complete districts of the province including district Hangu, Kohat, Peshawar, Khyber, Nowshera, Charsadda, Mohmand and Bannu whereas over 92,242 children will be inoculated in Afghan Refugee Camps in district Buner, Lower Chitral, Lower Dir, Haripur, Mansehra, Malakand, Mardan and Swabi while 161,305 children will be vaccinated in 11 selected union councils of North Waziristan and 14 union councils of Haripur.
Addressing the meeting, Additional Secretary Health for Polio Eradication/EOC Coordinator, Muhammad Asif Rahim said that conducting frequent polio vaccination campaigns in the province demonstrates the government's firm resolve to eradicate the menace from the region with the technical guidance and support of partners.
He stressed upon all segments of society particularly parents, elders, religious scholars, civil society and the media to come forward and extend their full support and cooperation to the national cause of polio eradication for the success of these campaigns so that the dream of a polio-free Pakistan may come true.
Asif Rahim informed that innovative operational and communication strategies have been introduced for the first time by provincial emergency operations center by launching the bikers' strategy, ring strategy, Enhanced Outreach Activity (EOA) strategy and reaching the unreached strategy to ensure vaccination of all eligible children in the province.
The meeting was informed that 6947 teams of trained polio workers including 6106 mobile teams, 448 fixed teams, 349 transit teams and 44 roaming teams have been deployed for the implementation of this campaign.
Besides 1,598 area in-charges have also been appointed for the vigilant supervision of these teams to make sure that all children in the target areas are administered with polio drops.
Likewise, it was told that 3,728 teams of skilled polio vaccinators and assistants, and 3638 community mobilizers have been assigned the task of administering injectable polio vaccines to children aged four to 59 months in District Khyber and Peshawar.
In order to ensure foolproof security of the polio teams, 18, 474 security personnel have been deployed in the target areas, the meeting was told.