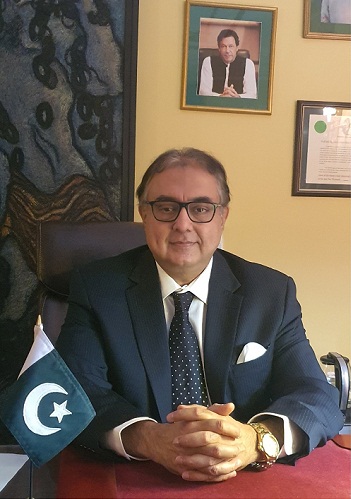 Ottawa, 6th Jan 2021 : High Commissioner for Pakistan to Canada Mr. Raza Bashir Tarar has said that India's revocation of the status of Indian Occupied Jammu and Kashmir and a consistent denial of Kashmiris' Right to Self-determination are manifestation of an Indian game-plan that dovetails into a larger Hindu supremacist ideology being actively espoused by the Modi government. 

"It is a worrisome aspect because if one looks at the population of the region and the perilous situation that obtains in Kashmir, any conflagration in the Kashmir region is bound to disturb the global peace," he said during a detailed interview with a Canadian TV channel and radio on the occasion of Kashmiris' Right to Self Determination Day marked all over the world on 5th January 2021, 

To a question, Raza Bashir Tarar said that the unilateral action of the Indian government of revoking the special status granted under Article 370 of the Indian Constitution to the Indian Occupied Jammu and Kashmir was reflective of a method in madness because the Indian calculus was to suppress the Kashmiris' resistance with a high degree of state brazenness and tyranny and then give an impression to the outside world that Kashmir struggle was nothing but an internal matter of the Indian government. 

He pointed out that the special status granted to the Kashmir region had, at a certain level, a symbolic value, a reference point and a ray of hope for the hapless and defenceless Kashmiris that they had a separate status from other Indian states in the Union of India, but the annulment of special status of Kashmir had dropped any pretence of civility and fig leaf of constitutionality India had always tried to wrap around Kashmir. 

He said that the night of tyranny and an unending nightmare that had followed in the wake of Indian action had made it clear to the world community that India did not care about anyone, neither the UN resolutions nor the position of Pakistan or the aspirations of Kashmiris and it could get away with anything through its economic and military might. 

To a question, the High Commissioner said the people of Canada were uniquely placed to understand the plight and tragedy of the Kashmiris and the excesses being committed against them. He described Canada as a country with an influential voice and an independent foreign policy. He said Canada had always enjoyed the status of a beacon in terms of the protection of human rights and advocacy of human rights, and it was natural for Canada to support the Right of Self Determination of the Kashmiris who had very high hopes from Canada.