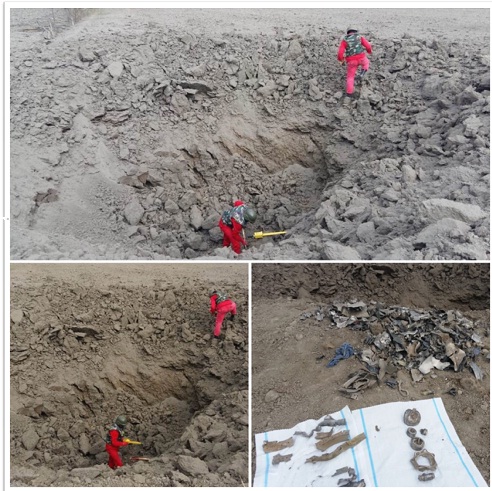 BAKU (DNA) -Since September 27, 2020 the armed forces of Armeniahave been indiscriminately targeting the civilian population, private houses and civilian infrastructure in Azerbaijan.By doing so, Armenia grossly violates its obligations under international humanitarian law, including the 1949 Geneva Conventions and its Additional Protocols as well asdisregards the humanitarian ceasefire declared on October 10 and 18.
On October 22 morning time, Armenia launched six operational-tactical ballistic missiles from its territory (Gafan and Jermukh regions) deliberately targeting residential areas and civilian infrastructure in Azerbaijan. 3 out of 6 missiles were fired at theSiyazan region at about 07.00 am, 2 missiles at the Gabala region, and 1 missile at the Kurdamir region at about 09.00am.
Siyazan, Kurdemir and Gabala regions of Azerbaijan are located far away from the zone of military operations. After targeting cities of Ganja and Mingachevir earlier, this is yet another attempt by Armenia to perpetrate new heinous crimes against peaceful population of Azerbaijan. By launching the attacks, Armenia attempts to expand the geography of the conflict zone that only serve to aggravate and escalate the situation.
As a result, resident of Hajally village of theGabalaregion– Murad Amirbeyov(2003) received various injuries. Five houses in the village were severely damaged. According to Azerbaijan National Agency for Mine Action's (ANAMA) special teams inspecting the operation site in theGabala region it was determined that the missiles launched were "8K-14" ballistic (SCUD-type).
Also, Armenia targeted Oghuz-Gabala-Baku water pipeline, which supplies drinking water to the Absheron Peninsula and is of special strategic importance for Azerbaijan. Fortunately, Azerbaijan Air Defense Forces neutralized the missile and its parts consequently, fell in the 250 meters perimeter from the pipeline.
As of 21stof October, totally 63civilians, including 8 children and 18 women were killed, 293civilians (including 32 children and 69 women) have been hospitalized with serious injuries.2072 private houses, 90 apartment buildings and 388 civilian infrastructures were damaged and became unserviceable as a result of Armenia's indiscriminate armed attacks.