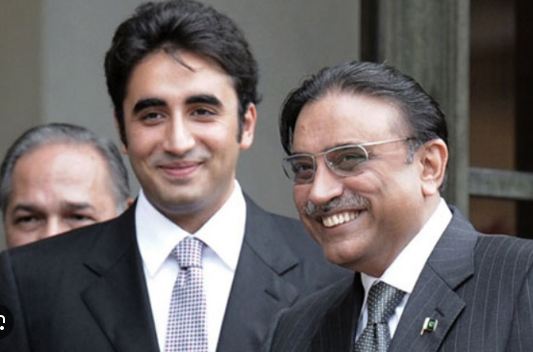 KARACHI, May 19: /DNA/ – President PPP-P Asif Ali Zardari and Chairman PPP Bilawal Bhutto Zardari co-chaired the hybrid meeting of the Central Executive Committee of Pakistan People's Party in Bilawal House, Karachi. 
The meeting passed a resolution condemning the events of May 9. "The PPP strongly condemns the incidents that happened in different cities of the country on May 9, the damage to the martyrs' memorial in Sargodha, the burning of Jinnah House, the vandalism at FC Fort in Dir, Mardan, breaking the statue of Shaheed Colonel Sher Khan, burning the Swat Motorway Toll Plaza, burning the Rawalpindi Metro Station and the Peshawar Radio Station to ashes, destroying the Chagai Model and Edhi Ambulance in Peshawar, and burning passenger buses in Karachi.
The resolution described the attacks on private, public and military properties and sensitive installations as defying the writ of the state of Pakistan.
The resolution further said that PPP leadership suffered political victimsation for decades but following the instructions of leadership, its leaders and workers never took the path of violence. Shaheed Zulfikar Ali Bhutto was judicially martyred, Mir Shahnawaz Bhutto and Mir Murtaza Bhutto were martyred too, Shaheed Mohtarma Benazir Bhutto was martyred, but PPP raised the slogan of Pakistan Khappay, which is a bright example for the political workers of all parties.
Former President Asif Ali Zardari was imprisoned for over a decade during different regimes including PTI's government while Ms Faryal Talpur, the Central President of PPP Women's Wing was arrested in the midnight and transferred from hospital to prison on the eve of Eid, but despite worst political oppression, the PPP never staged a rally against the country and its institutions.
The resolution demanded those responsible should be brought to justice and punished, accordingly.