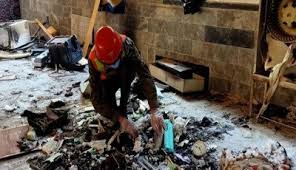 PESHAWAR : At least seven people were killed and more than 70 others injured – most of them children – in a blast at a madrassah in Peshawar's Dir Colony on Tuesday morning, police and rescue officials said.
Those killed and injured include madrassah students aged between nine and 15 years. Health officials fear that the death toll from the blast may rise as many of the injured are in critical condition.On getting information, police and rescue teams reached the spot and shifted the injured to Lady Reading Hospital, where a medical emergency was declared with medics and paramedics called to cope with the situation.
A police officer said initial reports suggest an improvised explosive device (IED) was used in the blast with four to five kilogrammes of explosives and ball bearings. The blast ripped through the seminary at a time when Quran class was ongoing.
Witnesses say a man brought a bag inside the seminary, after which the explosion occurred. The spot of the explosion has been cordoned off with investigators collecting evidence.
Peshawar police chief Muhammad Ali Gandapur said the explosion occurred at around 8:30 am. He confirmed that it was an IED blast in which five to six kilogrammes of explosive material was used.
Additional Inspector General (AIG) bomb disposal squad (BDS) Shafqat Malik, however, said it was a time device blast that occurred in the centre of the madrassah hall.
Health Minister Taimur Khan Jhagra tweeted: "Just back from a quick visit to Lady Reading Hospital, following the blast at a Madrassa in Dir Colony, Peshawar. Talked to the Chief Secretary, CCPO and the DC, as well as hospital administration. LRH has received 70 injured, with 7 patients dead on arrival."
This is a second blast in less than a week. At least 15 people, including Deputy Superintendent of Police (DSP) Ammanullah, were martyred and scores injured after a blast ripped through a mosque located in Quetta's Satellite Town area on Sunday.
The blast occurred during Magrib prayers inside the mosque, leaving 15 people martyred including DSP Amanullah and the prayer leader, police had said.