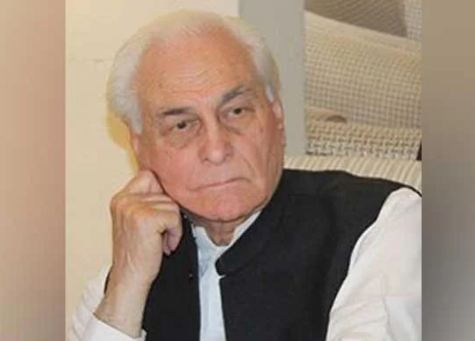 PESHAWAR, JAN 21: After a consensus between the Khyber Pakhtunkhwa government and the opposition, Governor Haji Ghulam Ali Saturday appointed former provincial chief secretary Azam Khan as the interim chief minister in the province.
A day earlier, the name of the interim chief minister was unanimously agreed upon in the meeting held to finalise the appointment of the province's caretaker CM.
The notification was issued today by the KP governor, according to which Azam Khan has been appointed as the caretaker chief minister in terms of Clause (IA) of the Article 224 of the Constitution of Islamic Republic of Pakistan 1973.
It stated that further necessary action may be taken for the administration of the oath to the caretaker CM by the governor.
The outgoing chief minister Mahmood Khan and the Leader of the Opposition in the outgoing KP Assembly Akram Khan Durrani were requested to hold consultations with the provincial governor regarding the CM's appointment and both agreed on Azam as the nominee, it added. The newly-appointed caretaker CM has held the office of federal secretary for the ministries of religious affairs and petroleum. He had obtained his Bar at Law degree from the Lincoln's Inn, London.
'Peaceful polls top priority'
Speaking to Geo News after his appointment, Azam Khan said that ensuring peaceful elections is his first priority. "It is the Election Commission of Pakistan's job to conduct peaceful polls and we will fully support it," he said.
"I have served as a caretaker interior minister before and supported the ECP in the elections."
Azam said that the province facing problems like law and order and inflation, promising to take measures to reduce them.
ECP to pick Punjab caretaker CM
However, in Punjab, the government and opposition remain at loggerheads over finalising the name of the interim chief minister.
The committee to appoint the caretaker CM in Punjab met a day earlier, but the meeting ended with no results and leaders from both sides criticised one another in their pressers.
The matter will now be taken up by the ECP tomorrow, which will decide who will be appointed to the post within two days.
However, outgoing Punjab Chief Minister Parvez Elahi has already declared that if the decision-making power is left to the ECP, he will take the matter to the Supreme Court.