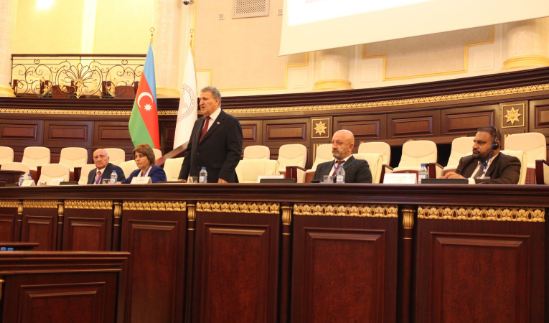 BAKU, JUL 30: /DNA/ – An international congress on "Climate change and sustainable soil management" dedicated to the 100th anniversary of the Great Leader was held On June 21-23, the international congress on "Climate change and sustainable soil management" dedicated to the 100th anniversary of Great Leader Heydar Aliyev started its work in the main building of ANAS.
The main goal of the congress, hosted by Azerbaijan and organized by the Eurasian Federation of Soil Science Societies, is to study and discuss the latest achievements in the soil science field and expand cooperation relations.
Before the event, the international congress participants visited the grave of the Great Leader Heydar Aliyev in the Alley of Honor, laid flowers in front of it, and observed a minute of silence in tribute to the memory of the outstanding statesman with deep respect. The congress, attended by 28 scientists and experts from 7 countries of the world, started with the screening of the video on "Heydar Aliyev and soil reform in Azerbaijan".
President of ANAS, Academician Isa Habibbeyli, opened the event with his opening speech and said that soil science, which occupies a special place among the fields of agriculture and food security, has great traditions in Azerbaijan, an agro-industrial country.
Speaker, the president of the Federation of Eurasian Soil Science Societies, and advisor of ANAS, Academician Garib Mammadov said that the Eurasian Soil Science Society Federation was established in 2012 by the initiative of soil science scientists of Azerbaijan, Türkiye, Russia and Kazakhstan, and informed about the activities of the institution he heads. Calling the holding of the international congress within the "Year of Heydar Aliyev" a significant event, Academician Garib Mammadov noted that important achievements were made in the development of agriculture and agrarian sector in the country during both periods when the Great Leader led Azerbaijan. The vice-president of ANAS, academician Irada Huseynova said at the event that the soil, which is the most valuable asset of the country and the people, is the habitat of plant and animal species, an important component of the environment that provides their lives.
Rıdvan Kızılkaya, member of the Ondokuz Mayıs University of Türkiye, prof. Sajid Rashid Ahmed, rector of the Kamalia University of Pakistan, prof. Yuri Majayiski member of Brest State University of Belarus,representative of the Republic of Kazakhstan Roushan Ramazanova, representative of the Republic of Czech Matula Svatopluk and others spoke and said that the event will support the focus on multidisciplinary approaches to soil science. The international event continued its work with plenary sessions.
Also, the speaker, Farid Mustafayev, the responsible secretary of the ICEFSSS Organizing Committee, thanked the conference organizing committee and the participants for their efficient activities.
The closing ceremony of the congress was held on June 23. The conference's closing ceremony ended with a gala night and banquet dinner.