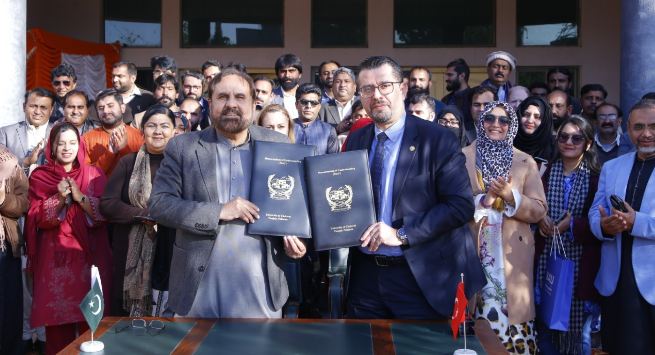 ISLAMABAD, FEB 1 /DNA/ – A foreign delegation comprising the Rector, Vice Rector, and Director of International office from Bahcesehir University Cyprus, Turkiye visited the University of Chakwal on Friday, 27/1/2023. The purpose of the honorable visiting delegation was to explore avenues of mutual collaboration regarding research and other professional development.
Vice Chancellor University of Chakwal Prof. Dr Muhammad Bilal Khan warmly welcome the honorable guests in the university. During the visit both sides agreed upon to enhance further collaborations on various fronts, in particular faculty and students exchange programs.
A MoU signing ceremony was arranged by University of Chakwal in this regard. Later on Vice Chancellor , University of Chakwal Prof. Dr. Muhammad Bilal Khan thanked the visiting delegation and appreciated the kind gesture of Bahcesehir University Cyprus, Turkiye. The delegation from Turkiye also appreciated a warm hospitality and honor given to the visiting delegation.