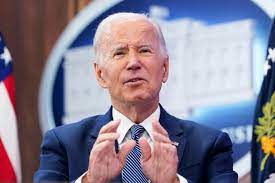 News Desk
WASHINGTON: Joe Biden, the United States president, has warned Saudi Arabia that there will be "consequences" after a global cartel of oil-producing countries led by the kingdom and Russia announced that they would cut oil production despite Washington's objections.
His remarks on Tuesday come a day after influential Democratic Senator Bob Menendez, the chairman of the Senate Foreign Relations Committee, said the US must immediately freeze all cooperation with Saudi Arabia, including arms sales.
"There's going to be some consequences for what they've done with Russia," Biden said in an interview with CNN.
"I'm not going to get into what I'd consider and what I have in mind. But there will be, there will be consequences."
Last week, the OPEC+ group said it would slash oil production targets by two million barrels a day, defying pressure from the US.
Saudi Arabia, the world's top oil exporter, said the decision aimed to stabilise the oil market – not drive up prices – amid interest rate hikes by central banks and the prospects of a global recession.
But critics argued the production curbs raise oil prices globally, which generates more revenue for Russia to continue to fund its war in Ukraine, despite Western sanctions on its economy. The move was also seen as a diplomatic slap in the face for the Biden administration as it prepares for November's critical midterm elections next month.
"This is really seen to benefit the president's political adversaries in the US," said Al Jazeera's Kimberly Halkett, reporting from Washington. "High energy prices are not good for the president politically," she added. "The other reason the White House is not happy about this is the fact that this is really seen as aligning with Russia."
But Saudi foreign minister Prince Faisal bin Farhan on Tuesday defended the move, saying it "was purely economic and was taken unanimously by the [organisation's] member states".
"OPEC+ members acted responsibly and took the appropriate decision," he told Al-Arabiya television station.