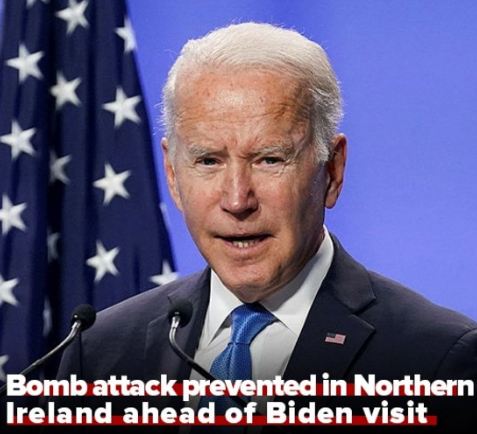 Before the visit of US President Joe Biden to Northern Ireland, tensions rose in the country. In celebration of the 25th anniversary of the Belfast Agreement (Good Friday Agreement), a protest was held in the city of Londonderry by nationalists who were against the agreement.
During the protests, a masked group attacked the police vehicle with Molotov cocktails.
Police announced that evidence was collected at the scene and that an investigation into the attack would be conducted under the 2000 Terrorism Act.
It was reported that there were no casualties or injuries in the attack.
Bomb attack on Biden thwarted
Northern Ireland police also announced that the IRA's bombing plan, which wanted to provoke the visit of US President Biden, was blocked.
Members of the republican paramilitary group New IRA (New Irish Republican Army) were searching for bomb parts, The Belfast Telegraph reported. "They were looking for parts to make a bomb," an unnamed source told the newspaper.
A Republican source also told the newspaper that New IRA leader Thomas Mellon wanted to dwarf Biden's visit in a "flashy" way.
British Minister for Northern Ireland Chris Heaton-Harris had announced that the terrorist threat level in Northern Ireland had been raised from "significant" to "serious", where the probability of an attack is high, and stated that the decision was taken by MI5, the British domestic intelligence agency.
Biden will arrive in the capital Belfast and visit Ireland on Wednesday.