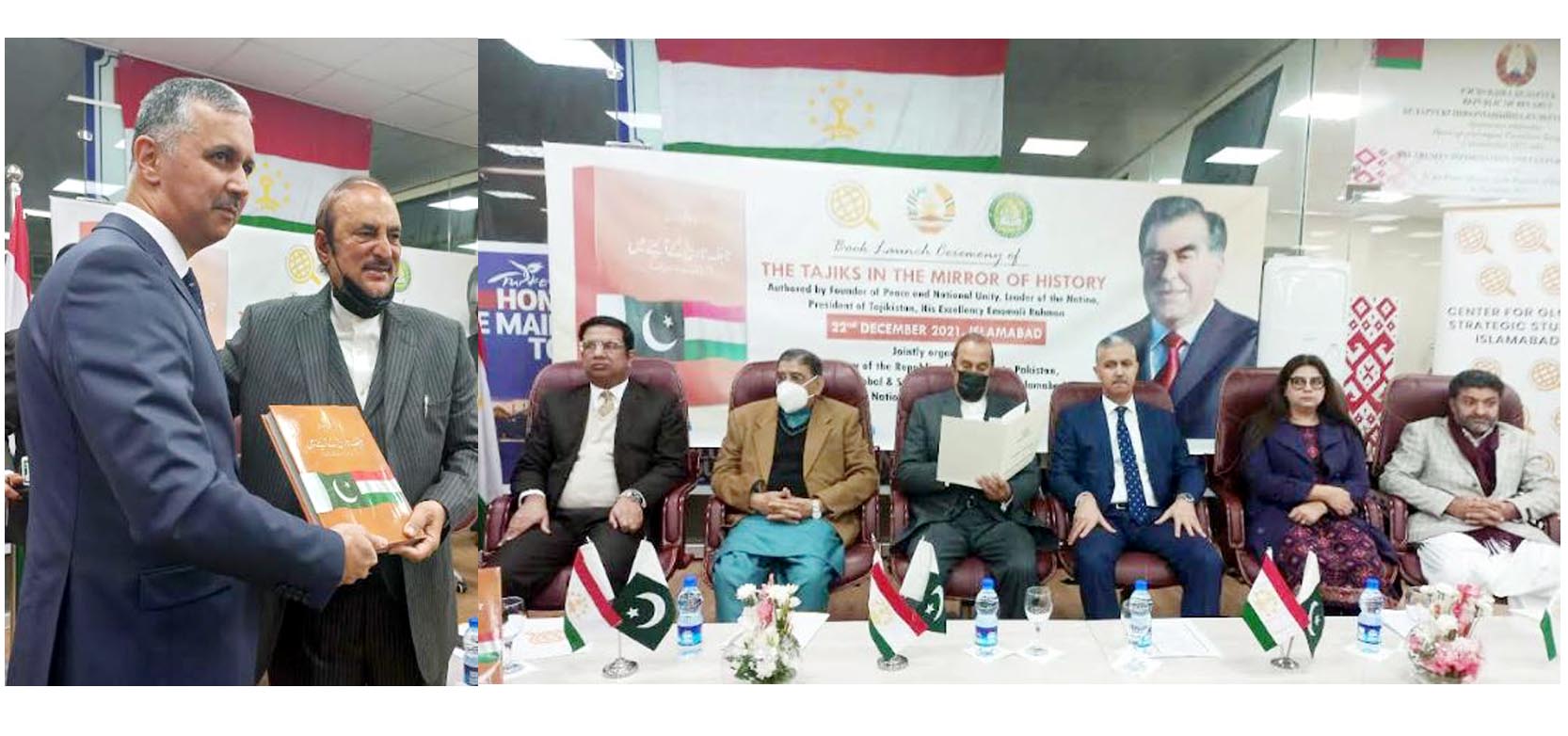 ISLAMABAD, DEC 22 /DNA/ – A Book Launch Ceremony of "The Tajiks in the Mirror of History" was jointly organized by the Embassy of the Republic of Tajikistan and the Center for Global & Strategic Studies (CGSS), Islamabad at the National Library of Pakistan.
This book is authored by Emomali Rahmon, President of the Republic of Tajikistan, and was translated and published in Pakistan by CGSS and the University of the Punjab, Lahore.
Chief Guest of the occasion was Zaheer ud Din Babar Awan, Federal Minister for Parliamentary Affairs/Adviser to PM, Government of Pakistan. He appreciated the efforts of the Embassy of Tajikistan and CGSS. Highlighting the importance of bilateral ties between Tajikistan and Pakistan he stated that Tajikistan and Pakistan have many commonalities including our culture, history, religion & commonalities in language as well. He was of the view that this book will prove to be a milestone in enhancing bilateral ties between Pakistan and Tajikistan.
Ismatullo Nasredin, Ambassador of Tajikistan to Pakistan stated that Pakistan and Tajikistan share many common interests including our history, culture & cooperation in regional forums. This book will allow Pakistani readers to be better acquainted with Tajik history & culture.
He stated that the book covers all the important aspects of Tajik history, culture, and struggles. He appreciated the role of CGSS and the University of the Punjab, Lahore for translating the book in Urdu and publishing it in Pakistan, this way all the information will be reaching a wider audience in Pakistan.
Mr. Khalid Taimur Akram, Executive Director, CGSS stated that this book will potentially contribute to the pool of Knowledge for Pakistan, it will help our students and faculty members to understand the socio-economic and political dynamics of Tajikistan. Such initiatives are great steps towards enhancing academic cooperation and people-to-people contacts.
Mr. Ashfaq Ahmed Gondal, Former Federal Secretary of Information and Broadcasting & Vice President CGSS (Federal Region) stated that Pakistan and Tajikistan share cultural and historical roots we also share a common religion. He emphasized that both countries have severalMoUs and agreements in various fields, and now is the right time to materialize these agreements for better connectivity, collective success, and strengthening our partnership in various sectors.
Dr. Fouzia Hadi Ali, Director, Regional Integration Center, University of Punjab, Lahore shared her views on the visionary leadership of his Excellency Emomali Rahmon, President o Tajikistan. She highlighted that President Rahmon is known to be a visionary leader due to his effective strategies and structural reforms. He has the vision to promote regional cooperation and economic integration for all allies.
Mr. Raja Javed Iqbal, Director, National Library of Pakistan. Islamabad highlighted that the National Library of Pakistan has strong ties with libraries in Tajikistan. He shared that Pakistan has sent several books to libraries in Tajikistan that show our commitment and will to promote relations with our counterparts in Tajikistan. He also stated that multiple copies of the book will be kept in the National Library of Pakistan for students, academicians, and researchers to read and know about Tajikistan and its rich history and culture.
The book launch ceremony was moderated by Ms. Maryam Raza, Research Executive, CGSS, and was attended by 100 participants including worthy ambassadors and diplomatic community from the embassies of Azerbaijan, Kazakhstan, Germany, Belarus, and United Arab Emirates. It was also attended by academicians and students from various universities of Pakistan.