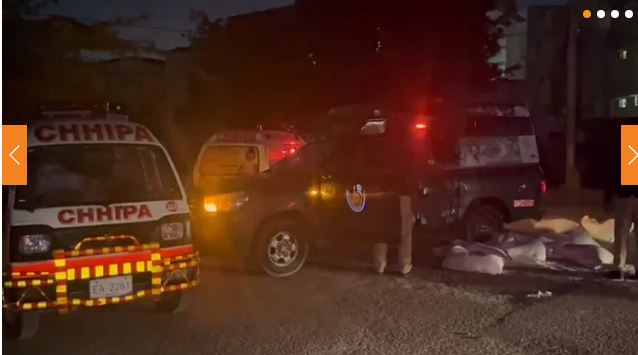 KARACHI: Armed men opened fire at the Karachi police chief's office, situated on the main artery of Sharea Faisal, officials confirmed to Geo News Friday, the latest terrorist attack on security forces as terror incidents see an uptick across the country.
The attack began at around 7:10pm and is still ongoing. As the operation to eliminate the terrorists is underway, two militants have been killed and three people — including one Rangers personnel and a police officer — have been injured.
Police officials said that armed suspects — whose total numbers are unknown at the moment — fired several rounds at the head office — located adjacent to the Sadar Police Station.
A rescue official was injured after being shot and has been shifted to the Jinnah Postgraduate Medical Centre, confirmed hospital sources. It was learnt that the person, who sustained two bullets, was out of danger.
As the police bid to beat the terrorists, Rangers have been called in and the roads leading towards the police office for traffic — to ensure that citizens remain safe. 
'Not acceptable'
Sindh Chief Minister Murad Ali Shah took notice of the attack on the office of the additional inspector-general, instructing several DIGs to send police force to the site.
"The attack on the Karachi police office is not acceptable under any circumstances," he said, demanding an initial report from the concerned officer immediately.
The chief minister mentioned that he is personally monitoring the situation and has directed officials concerned to arrest the suspects involved.
Sindh Governor Kamran Tessori expressed concern over the attack and sought a report from Inspector-General of Police Ghulam Nabi Memon. He directed officials to take "strong action" against the terrorists. "Terrorists should be strictly dealt with. The attack is an extremely significant cause for concern," he stated.
Meanwhile, Sindh Information Minister Sharjeel Memon insisted on defeating terrorists.
"Terrorists will be taught a lesson for challenging the government's writ. They have attacked while hiding and the attack will prove costly for them," the minister said.